May 12 2020
Women Committee distributes Ramadan rations to 210 female taxi drivers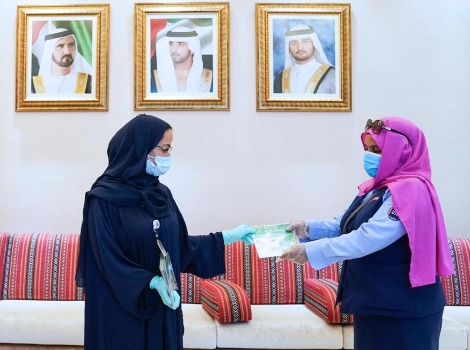 Dubai's Roads and Transport Authority's Women's Committee has distributed Ramadan supplies to 210 female taxi drivers in collaboration with the Dubai Taxi Corporation. The distribution was done under strict compliance with the applicable preventive measures against the spread of novel coronavirus including physical distancing.

"As a part of our Ramadan initiatives, and our social responsibility towards RTA's female staff, we are always keen to add a touch of charitable and humanitarian dimension to our activities. This year's Ramadan rations are in the form of nol cards, that could be used in buying food supplies from several retail outlets in Dubai and other Emirates. The cards can also be used for paying the fare of public transport means and public parking in Dubai. The distribution took place at the premises of the Dubai Taxi Corporation at Muhaisnah" said Ms. Moaza Al Marri, Executive Director, Office of the Director-General and Chairman of the Board of Executive Directors cum Chairperson of Women's Committee, RTA.

"The distribution of Ramadan supplies to female taxi drivers stems out of the RTA Women's Committee's appreciation of women working under challenging conditions dictated by the outbreak of the Covid-19. The Dubai Taxi Corporation's initiative to offer a full paid leave to female taxi drivers aimed to ensure their safety and recognise their role in striking a balance between family and work needs. It also assisted them to support their children to cope with remote learning system currently in place across the UAE.

"RTA Women's Committee has also run a series of other initiatives and events via video conference technology under the prevailing health protective measures. Events held included cooking lessons, religious awareness lectures and Ramadan supplies initiative for female taxi drivers.

"RTA stands ready to cope with various challenges and circumstances and ensure the continuity of business at all levels. It stands ready to tackle the fallouts of Covid-19 and keep up delivering cultural, recreational and humanitarian events as planned," concluded Al Marri.