21 Jul 2022
MENA Centre for Transport Excellence holds 6 training courses in first half of 2022
(The sessions focused on business intelligence, electric public transport means)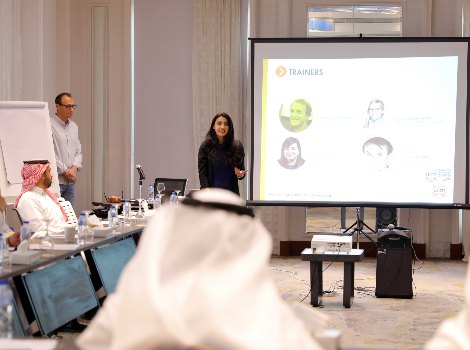 The MENA Centre for Transport Excellence has held six specialist remote training courses in the first half of 2022 in coordination with Dubai's Roads and Transport Authority (RTA). The courses, which attracted 117 trainees from a variety of transport sectors and agencies, focused on explaining the fundamentals of public transport policy, data and business intelligence in public transportation, regulating and operating taxis, and deploying electric means in public transportation.

Ahmed Bahrozyan, Chairperson of the Coordinative Committee of the MENA Centre for Transport Excellence with RTA, said: "These specialist training programmes consisted of several groups. The first, which scored a satisfaction rating of 89%, included two training courses for RTA's employees from different sectors and agencies. About 36 trainees took part in the group which held 32 training hours over 8 training days. It covered a series of topics highlighted by the fundamentals of public transport policy, data, and business intelligence in public transport. 11 international public transport specialists took part in delivering these remote training programmes.

"The second group, which achieved a satisfaction rating of 88%, conducted two training courses for 28 trainees from the Saudi Transport General Authority (TGA). The programme involved 26 training hours over 6 training days that covered topics related to regulating and operating taxis and electric public transport means. 9 specialist lecturers participated in delivering the training courses, which were held in Kingdom of Saudi Arabia.

"The third group included two training courses delivered in French in the Kingdom of Morocco. 53 trainees affiliated with public transport entities worldwide took part in the programme where 13 lecturers delivered the remote training modules over 20 training hours focused on electric buses, and Mobility as a service (MaaS)," added Bahrozyan.

Reports and Studies

"Activities of the MENA Centre for Transport Excellence focused on research, studies and reports. It published a report entitled: Transport in MENA 2021, which updated the details of 2019 and 2020, and identified the impact of the Covid-19 pandemic on the transport sector. In the last quarter of 2022, the Centre will publish another report about MENA Bus Rapid Transport System aimed to raise awareness about the Bus Rapid Transport (BRT) systems and develop related knowledge summaries for the MENA region," he commented.

"As part of other activities of the Centre, Dr. Khulood Al Hafeeti, Director of HR Studies and Policies delivered a report to the UITP Congress entitled: The UITP Experience Business and HR Management. The report was submitted in the second remote session entitled: Experiences from the Covid-19 Crisis.
The training courses commissioned by the Centre for RTA's employees aimed at achieving RTA's strategic goals and objectives that call for improving talents, enhancing employee knowledge management, and taking a leading role in research and development," concluded Bahrozyan.

It is noteworthy that the MENA Centre for Transport Excellence was established in collaboration with the UITP under an initiative to make it a reference point for professional research, and knowledge exchange. It was also intended to establish a host of channels for organising transport, compiling reports about MENA transport policies for sharing practices and experiences, and holding training courses for assisting public transport officials.