May 20 2019
Easy payment of taxi fare transactions clocks 3.2m in first quarter of 2019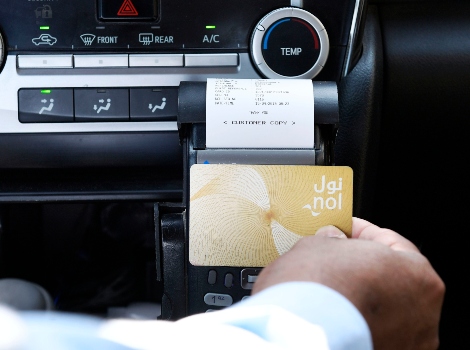 Roads and Transport Authority (RTA) revealed that the payment of taxi fare through electronic means (nol and credit cards) for taxis operating in Dubai had hit 3,199,323 transactions in the first quarter of 2019 year. The figure reflects a massive growth when compared to the number such transactions recorded during the corresponding period last year, which was 1,307,968 transactions.

"The hike in the use of easy payment methods of taxi fare indicates the customers' satisfaction in switching to this mode, as it saves them the hassles of carrying cash all the time," commented Ahmed Bahrozyan, CEO of RTA's Public Transport Agency.

"The number of easy payment of taxi fare transactions during the first quarter of 2019 recorded 3,199,323 transactions; comprising 3,033,285 transactions via credit card, and 166,038 transactions via nol card. In comparison, 1,307,968 transactions of similar nature were carried out in the first quarter of 2018; comprising 1,212,116 transactions through credit cards, and 95,852 transactions through nol card," Bahrozyan continued.

In 2018, the total number of easy payment of tax ifare transactions amounted to 7,762,166 transactions; comprising 7,158,327 transactions completed through credit card, and 603,839 transactions done through nol card. In 2017, the total number of easy payment of taxi fare transactions amounted to 2,213,241 transactions; comprising 2,057,446 transactions made through credit cards, and 155,795 transactions processed through nol cards.

"Based on these positive results, RTA has recently completed fitting the entire fleet of Dubai Taxi, of 10,800 taxis, with POS devices. Taxi riders can now pay for their journeys via nol or credit cards, or use the NFC feature in smartphones supporting Apple Pay or Samsung Pay digital wallets. The step also contributes to a host of RTA's strategic goals such as People Happiness, and Advance RTA," concluded Bahrozyan.