09 Nov 2021
Artificial Intelligence to be used in training drivers at Excellence Driving Centre
(An MOU was signed marking the official launch of AI in training drivers at Dubai's Excellence Driving Centre by Location Solutions (UAE) and AV Living Lab in partnership with Excellence Driving Centre (UAE))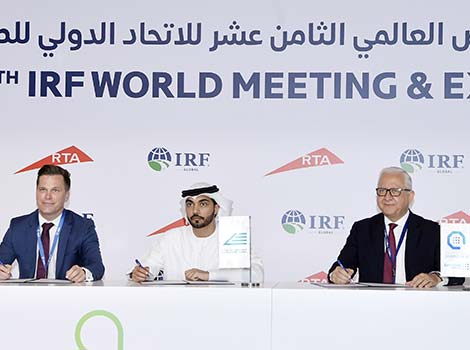 On November 15, 2021, Location Solutions LLC will launch the use of artificial intelligence (AI) in training drivers at Dubai's Excellence Driving Centre; the centre that prides itself on providing training technologies to ensure the graduation of competent drivers that fulfil the needs of safe and secure driving.
To this effect, an MOU was signed between Location Solutions, AV Living Lab of Slovenia, and Excellence Driving Centre on November 7, 2021, at the side-lines of the International Road Federation (IRF) World Meeting and Exhibition at the Dubai World Centre.
The Slovenian technology provided by AV Living Lab, a high-tech mobility start-up, has been developed over the last six years in collaboration with the finest data scientists from Slovenia and the USA.
The Excellence Driving Centre aims to apply AI technologies to drivers training to achieve Zero-Accident Society in line with the goals of UAE Vision 2021. The system uses a motion driving simulator, biometric sensors for data collection, Digital Twin technology, real traffic scenarios with critical road situations, a patented platform of cognitive AI, and avatars simulation. These technologies will enable drivers to understand better points of their strengths and driving behaviour patterns that require improvement. The system aims to provide drivers with better driving experiences and skills to enable them to have better chances of passing driving license tests.
"We would like to extend our technology-based offer in Dubai driver training market by partnering with Location Solutions and AV Living Lab. We plan to go further and develop an AI Driver Training Program tailored to various types of fleets allowing them to be more efficient and personalised in driver education," said Mr. Ali Al Zaabi, CEO of Excellence Driving Centre.
"We are happy to partner up with such a talented team as Excellence Driving Centre striving to introduce innovation in the processes and driver training tools. We will work together to use the data-driven technology to improve road safety in Dubai," said Mr. Zaim Azrak, CEO and Founder of Location Solutions.
"AV Living Lab did not have the slightest doubt about the choice of the destination country for the introduction of AI Driving. Thanks to the wise leadership looking into the future, Dubai has been a pioneer in implementing the most unbelievable tech. Together with our partners, we will create an Ecosystem to help Dubai achieve Zero-Accidents, to make a People-centric and Environmentally friendly Society," commented Mr. Daniel Avdagic, CEO of AV Living Lab.