May 01 2019
Al Tayer chairs inaugural meeting of Dubai Future Council for Transportation
(The gathering discussed the future of transport and existing opportunities)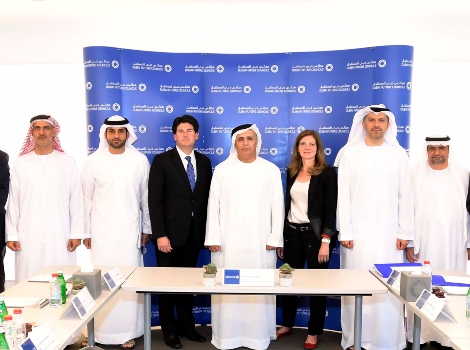 HE Mattar Al Tayer, Director-General and Chairman of the Board of Executive Directors of Roads and Transport Authority (RTA) has chaired the first meeting of Dubai Future Council for Transportation at Dubai Future Academy. The 15 members of the Council were in attendance comprising experts and visionary leaders from the UAE and abroad.
Dubai Future Council for Transportation is one of 13 councils comprising Dubai Future Councils announced by HH Sheikh Hamdan bin Mohammed bin Rashid Al Maktoum, Dubai Crown Prince and Chairman of the Executive Council, to act as a platform for shaping the future of vital sectors in Dubai over the next 50 years. The councils aim to enhance the transfer of knowledge and expertise to figure out effective solutions to various challenges. They are also entitled to launch nation-wide initiatives to tackle existing and future opportunities. The councils include an elite bunch of visionary leaders in public and private entities, whether in the UAE or overseas.
At the start of the meeting, Al Tayer welcomed attendees and expressed hope for the council to contribute to the realisation of the vision of our leaders in fore sighting the future and identifying challenges ahead. He also aspired for the council to map out strategies and initiatives in support of Dubai Government efforts in line with the 8 Guiding Principles of Dubai, and RTA efforts in pushing Dubai's role in leading the future of transport industry worldwide.
The first meeting discussed four key elements: autonomous vehicles, technology and smart systems with reference to the future of transportation, new business models for encouraging the use of public and shared transport, and sustainable transport means. The meeting reviewed the global trends of the future of transportation and projects RTA is considering to undertake in this regard. Attendees also screened future opportunities and challenges of transportation as well as the existing opportunities capable of contributing to the building of the future of transportation in Dubai.
Attendees included Ahmed Bahrozyan, CEO of Public Transport Agency and Deputy Chairman of Dubai Future Council for Transportation; Dr. Arif Al Hammadi, Executive Vice President of Khalifa University for Science and Technology; Mr. John Roth, President and Managing Director of GM Africa and Middle East; Ms. Laurence Batlle, President of RATP Dev Executive Board; Mr. Ralf Baron, Partner in Arthur D. Little; Mr. Jerome Glenn, Thinker from USA; Prof. Peter Jones, Transport and Sustainable Development at the University College London, Col. Mohammed Ali Karam, Director of Traffic Technologies, Dubai Police; and Abdulla Al Madani. From RTA attended Amair Saleem, Director of Knowledge and Innovation; Dr Sara Ishaq, Manager Sustainability & Future Section; and Rashid AlSheikh, Deputy Director of Strategic Planning Department