News/Events
RTA celebrates centennial issue of Salama Magazine
20/08/2015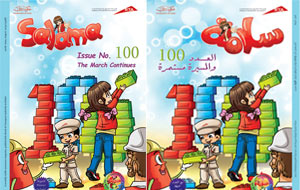 The Roads and Transport Authority (RTA) has celebrated the publishing of the centennial issue of Salama magazine; which had first been published in 2007 and continued ever since as a child-oriented publication communicating awareness messages about traffic safety & cultural orientation through cartoons and stories.
"The strategic plan of the traffic awareness developed by the Traffic Department is very much dependent on Salama magazine in delivering key awareness messages to children aged 7-14. The magazine has witnessed tremendous improvements since started publishing in keeping with the development plans & programs of traffic education," said Husain Al Banna, Director of Traffic, RTA's Traffic and Roads Agency.
"The awareness plans implemented by the Department are aligned with RTA's 5th Strategic Goal (Safety and Environmental Sustainability). Accordingly, plans are being customized to the suit the targeted age brackets, and address the diversity of Dubai as a city with abundant multi-cultural communities speaking numerous languages. Salama magazine is considered one of the key publications of the Department, which also publishes awareness leaflets, educative booklets and flyers usually linked to a specific campaign or program undertaken.
"Salama magazine complements other awareness programs & campaigns targeting the same age group, such as the Child Safety Program targeting children and mothers, offering information & tips to mothers about the safety of the loved ones, and how to drive and buckle up the safety belt during pregnancy. The Department also runs a number of events & field activities at schools and child centers besides distributing the magazine," explained Al Banna.
"The magazine is focused on converting traffic awareness messages into drawings & short stories tailored to the mentality of children urging them to properly deal with traffic-related issues. The objective is to transform this vision into traffic attitudes that protect children from exposure to traffic accidents; which will assist them in understanding traffic rules when they come of age and have driving licenses. Thus the ultimate goal of the magazine is to nurture a generation committed to sound traffic practices in the forthcoming years," he noted.
"The RTA prints 10,000 issues of Salama magazine every month and distributes them to schools, child-learning centers, entities & events attended by mothers or parents, traffic events such as the Gulf Traffic Week, summer camps, and exhibitions hosted by the Agency in various events," concluded the Director of Traffic, Traffic and Roads Agency.