Projects
Dubai Tram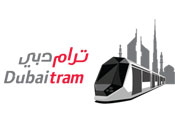 Start Date: 2008
Planned Date: November 2014
Project Cost: AED 3.775 Billion
Project Description:
Dubai Tram extends 14.6 km alongside Al Sufouh Road, and the Tram network comprises 17 passenger stations, the initial Phase of the project envisages the construction of a 10.6 km-long track., 11 stations of which are covered under Phase I starting from Dubai Marina and stretching up to the Tram Depot near Dubai Police Academy and spread across activity and population density areas along the tramway. The fleet comprises 11 trams in the initial phase, and 14 trams will be added in Phase II such that the total number of operating trams will be 25 trams. The tram ridership is expected to be 27,000 riders per day at the start of operations in 2014, and the ridership is bound to pick up to hit 66,000 riders per day by 2020.

Each tram measures 44 meters in length and has a capacity to accommodate about 300 riders. The Tram has a Gold class car, one car designated for women & children and five Silver Class cars. The tram's cars & stations will have high end interior finishing, and feature state-of-the-art technologies in the media and display of entertainment materials. In the stations, the passenger platform will span 44 metres and is set to be equipped with Platform Screen Doors and Automatic Fare Collections systems.
The tram track basically extends at-grade level along Al Sufouh Road but rises in an elevated section when passing across certain parts of the Dubai Marina for reasons dictated by urban context. It links up with the Metro system at two stations along Sheikh Zayed Road (Dubai Marina and Jumeira Lake Towers stations) and with the Monorail of The Palm Jumeirah at the entrance of the Palm from Al Sufouh Road via footbridges to ease the transit and transfer of passengers between the two modes.

Al Sufouh Tram is considered the world's first tramway project outside France powered by a ground-based electric supply system extending along the track, thus obviating the need for overhead power cables. It is also the world's comfort, synchronized and the first tramway that uses Platform Screen Doors in passenger stations fully aligned with the tram's doors opening and closing mechanism, providing maximum convenience, safety and security for passengers