News/Events
RTA trains Emirati staffs on top bus planning practices at Denmark
18/12/2015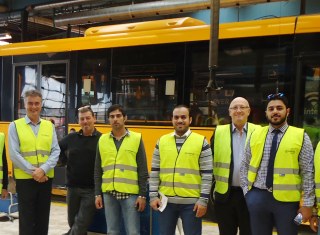 As part of its training program to uplift the caliber of its human resources through offering them exposure to advanced expertise & practical skills, the Roads and Transport Authority (RTA) has recently held dispatched a bunch of Emirati managers at Public Transport Agency to attend a specialist training program at Copenhagen, Denmark. The course was designed to acquaint trainees with the best practices of planning, operating and maintaining buses and mass transit means.
"The Human Resources and Development Department, RTA Corporate Administrative Support Services Sector, is always keen on holding training programs for employees, be it within the UAE or abroad," said Kawther Kazim, Executive Director of Human Resources & Development. "Such programs stem from the strategy of the RTA which prioritizes the improvement of skills & experiences of technical Emirati staffs at various fields, including buses. The objective is to improve their performance, and up their competence in doing their jobs, be it related to planning, operation or maintenance of buses," she noted.
"The RTA was keen to coordinate with Arriva DP; a leading public transport operator in Denmark through dispatching 5 Emirati managers at Public Transport Agency to familiarize them with the business processes of the company. They were briefed on various analytical techniques, and paid site visits to bus depots." She recalled that the Department is keen to set career development and job succession plans throughout the year covering all professions," she continued.
"The visit contributed to enriching our staffs who benefited so much from the site training and the exposure to highest international practices in such fields. The entire experience fits well with the direction of our senior leadership of caring for Emirati staffs posted in various technical fields in order to nurture a generation capable of rising to the challenges, and coming up with positive and excellent ideas to drive the business of the RTA," added Kazim.