Mar 20 2017
Al Tayer briefs Qatari delegation on RTA's experience in constructing road projects, mass transit systems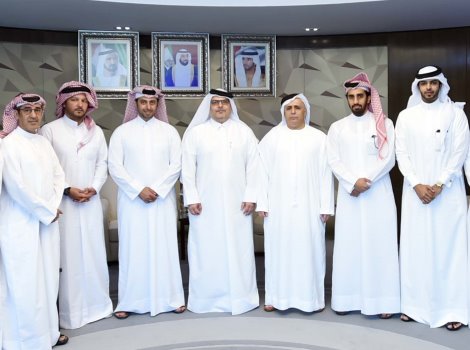 HE Mattar Al Tayer, Director-General and Chairman of the Board of Executive Directors of the Roads and Transport Authority (RTA), has received a Qatari delegation headed by Dr. Saad bin Ahmed Al Mohannadi, President of Public Works Authority. The meeting discussed means of boosting cooperation and reviewing the experience of the RTA. In particular it examined RTA's establishment, organization chart, strategy, roads and mass transit projects, and licensing systems among others. The delegation examined the quality of roads indicator, management of infrastructure projects, and lessons learned in designing and constructing the infrastructure. The delegation was also reviewed means of reducing project cost, and road maintenance works as well as expectations and challenges associated with customers service.

Attendees from the RTA included Nasser Hamad Bu Shehab, CEO of Strategy & Corporate Governance and a host of directors. The Qatari delegation included Eng. Abdullah bin Ahmed Al Attiyyah, Assistant President of Public Works Authority, Eng. Mohammed Masoud Al Marri, Acting Director of Infrastructure Affairs, Khamis bin Ahmed Al Mohannadi, Advisor at the Prime Minister's Office, and Jasim bin Ahmed bin Khalifa Al Attiyyah, Advisor at the Prime Minister's Office.

Al Tayer, reviewed RTA's foundation stage, shifting of tasks, assets and technical systems from Dubai Municipality, Dubai Police General Headquarters, and Dubai Transport Corporation in a record time, besides providing qualified administrative and technical personnel, solving the problem of traffic congestion, improving traffic safety, and increasing mass transit users. He also highlighted RTA's organizational chart which is aligned with the best international practices adopted in transport institutions in Germany, Hong Kong and Singapore.

"Since inception, the RTA has been striving to improve the mass transit system and render it the preferred choice for mobility in the emirate in order to raise the mass transit share in the emirate (metro, tram, buses, marine transport) to 20% by 2020, which has already increased from 6% in 2006 to 16% in 2016, and would reach to 24% if taxi service is included," added Al Tayer.

"The RTA carried out a number of mega, vital projects in mass transit highlighted by Dubai Metro Project, the world's longest driverless metro network spanning 75 kilometers, Dubai Tram Project with extending 11 kilometers, and a huge fleet of public buses comprising more than 1560 buses, in addition to an integrated system of marine transit modes, and taxi cabs. Dubai's mass transit modes lift nearly 1.5 million passengers a day."

Al Tayer added that the RTA has introduced state-of-the-art technologies to operate mass transit system, including NOL card which is used to pay transport fares in various transits modes including Dubai Metro, buses and water buses, as well as expanding the smart services project.

Dr. Saad Al Mohannadi commended the corporate model and organizational chart of the RTA; which gives it sufficient flexibility and efficiency in expediting the accomplishment of roads infrastructure projects, Metro & Tram projects and the full integration of mass transit systems. He expressed hope for boosting cooperation & sharing of expertise and holding workshops in the fields of planning, providing and operating mass transit systems and improving the infrastructure of roads & mass transit systems.