30 Nov 2022
RTA marks Commemoration Day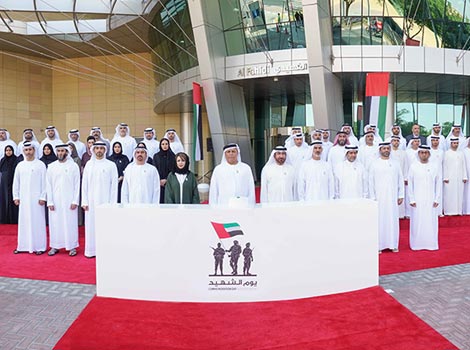 Dubai's Roads and Transport Authority (RTA) marked Commemoration Day at its Head Office, where His Excellency Mattar Al Tayer, RTA's Director-General, Chairman of the Board of Executive Directors along with several CEOs and Directors, hoisted the state flag. Attendees observed a minute of silence and prayed for the souls of the nation's righteous martyrs to mark Commemoration Day, which is celebrated on 30th November each year.
Commemoration Day is a precious national occasion for all citizens and residents of the UAE to express their appreciation for the sacrifices of Emiratis for the honour and pride of their nation as well as the people of the UAE.
His Excellency Mattar Al Tayer stressed that Commemoration Day, which is observed annually on November 30th, is a day close to everyone's heart. "It is a day of loyalty and reverence for the sacrifices and valour of the nation's martyrs who sacrificed their lives for the sake of the homeland," he commented.
"Led by His Highness Sheikh Mohamed bin Zayed Al Nahyan, President of the UAE, and his brother His Highness Sheikh Mohammed bin Rashid Al Maktoum, Vice President, Prime Minister of the UAE, Ruler of Dubai, the UAE presented to the world a decent model in sacrificing the precious souls of valiant citizens to restore the rights and redress grievances.
"The sacrifices of the UAE's martyrs for the betterment of their homeland would remain a beacon that lights the way for future generations. They would be a lesson from which citizens will learn the love of the nation and offering what it takes to defend their homeland," said Al Tayer.
Social responsibility
In line with its strategic goals and objectives that foster the values of social responsibility, RTA is keen to mark this great occasion such that it becomes immortal in the hearts of the community and makes them proud of the great sacrifices made by the valiant sons of UAE for noble causes. Through marking this national anniversary, RTA aims to pay respect to the heroic deeds of the martyrs.
Staff interaction
RTA staff interacted with the commemoration Day with pride, showing that the 30th of November is a very important date to commemorate and honour the UAE's martyrs. It is a reflection of their courage and determination in performing their national duty and that their dedication will not be forgotten by today and future generations.