Nov 06 2014
Touristic Abras in the Global Village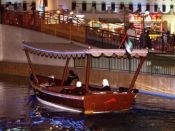 Touristic Abras in the Global Village
The RTA has launched a route for the touristic Abras in the Global Village, where visitors to global village can enjoy taking in the sights and sounds of many cultures in a relaxing Abra ride. The Abra service contributes significantly to the revival of the traditional means of transport.
Touristic Abras in the Global Village
Itinerary
Trip Estimated Time
Touristic Abras Number
Passenger Capacity
Fares
The touristic Abras route goes through the lake and the Canal passing the villages located on the banks of the Canal, which in turn gives passengers the opportunity to watch the most important sceneries of the village.
The trip takes around 15 to 20 minutes
8 Touristic Abras available at the Global Village
One Abra can accommodate 6 passengers
50 dirhams
It is worth mentioning, that touristic Abras in the Global Village are electrically operated in order to preserve the environment from pollution.