Nov 16 2014
Smart tourist guide service - Nahaam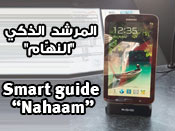 Dubai Ferry's smart tourist guide service "Nahaam"
The Roads and Transport Authority (RTA), has launched a smart tourist guide service billed as 'Nahaam' on board the Dubai Ferry, offering riders a rich travelling experience witnessing a commentary about tourist landmarks en route, adding more joy and excitement throughout the trip.
 
Naham system is a tablet computer fitted at the Ferry's captain cabin and linked with display monitors in passengers' cabin. At the start of the trip, the system displays a short movie about safety tips followed by a pictorial display of key tourist landmarks en route accompanied by an audio commentary. The system also displays information about the scheduled Ferry trips, and between different landmarks the system displays a route map showing the current position of the Ferry as is the case in airline trips.

The launch of this initiative adds to the smart service offering to various spectrums of the community and responds to the wishes of Ferry riders.