Aug 24 2014
Salik top-up service through eVouchers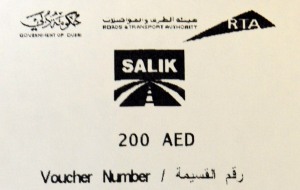 Salik top-up service through e-vouchers
The Roads and Transport Authority (RTA) announced the launch of a new Salik balance recharge service through e-vouchers, and the service has been activated and made available across the nation. The step aims to offer more flexible and lively services to our customers.
 
Salik clients can recharge their accounts by dialing (800-Salik) 80072545, visiting www.salik.ae using their credit cards, accessing ePay or mPay services, or visiting the service-providing banks or kiosks spreading all over the Emirates. To deliver effective services to customers, the RTA, in cooperation with Axiom Telecom, has provided the new recharging e-vouchers in more than 3000 departmental stores to make them accessible nation-wide.
 
The new e-vouchers are available in three denominations: 50, 100 and 200 dirham to suit customer needs.