Mar 23 2015
RTA activates violations against the misuse of the Al Masar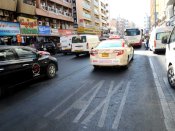 RTA activates violations against the misuse of the "Al Masar" system as of 1st April 2015
The RTA has announced the start of reporting fines against vehicles misusing the Bus & Taxi Only Lanes  the "Al Masar" as of 1 April 2015, where a fine of AED600 will be reported against violators.
 
The system would be implemented in the initial phase on the Bus & Taxi Only Lane extending one kilometer of Naif Road, where seven cameras has been installed along the lane to monitor violators where violations would be reported through surveillance cameras, and/or the Dubai Police patrols.
 
The Order No (1) for 2010 regarding the use of dedicated lanes on Dubai streets has specified vehicles allowed to use these dedicated lanes as: public buses, taxis, police vehicles, civil defence vehicles, and ambulances serving emergency cases. Vehicles for individual are only permitted to use these lanes to access or exit subsidiary streets.
 
It is noteworthy that, the enforcement of the Bus and Taxi Only Lanes system aims to increase the share of public transit means in the movement of people in the Emirate of Dubai. It also targets to ease off traffic congestions, improve the efficiency of on-time bus arrivals, cut the duration of taxi trips, reduce the direct & indirect operational costs of public transit means, and cut carbon emissions polluting the environment.