Jul 05 2015
Risks Recognition Test for driving trainees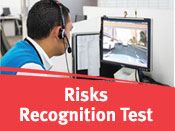 Risks Recognition Test for driving trainees
RTA's Licensing Agency launches on July 2015 the Risks Recognition Test as part of an enhanced Theoretical Knowledge Test for all driving categories trainees to raise the traffic awareness and road safety.
RTA is keen on adopting advanced training modules with the aim of instilling high driving skills in driving trainees, promoting safety and minimizing traffic accidents. The test currently conducted in three basic languages i.e. Arabic, English and Urdu, on September 2015 the test can also be run in Chinese, Persian, Indian, Malayalam, Bengali, Russian and Tamil languages.
The Risks Recognition Test had been designed by a company specialized in developing hi-tech 3-D drawings relating to traffic safety, contains five which are automatically selected from an online questions bank. Each video lasts about 25 seconds and depicts specific environmental conditions and a set of unique associated road risks and how the driver can cope with them. The prime objective is to graduate drivers with high sense of safety, traffic awareness and skills in order to reduce traffic accidents in Dubai roads, under the overall objective of realizing RTA's vision of Safe and Smooth Transport for All.