Jul 02 2014
One-Day Ticket for Water Bus Service at Dubai Marina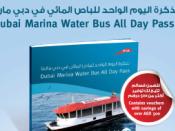 One-Day Ticket for Water Bus Service at Dubai Marina
 
One-Day Ticket for Water Bus Service has been devised with a view to attracting tourists, visitors and residents to know more about the Dubai Emirate through taking water bus rides via four stations within the Dubai Marina.
 
The One-Day Ticket is typically valid for a whole day enabling multiple hop on and hop off rides. The ticket sells for 25 dirham enabling users to hop-on and hop-off repeatedly between the two sides of the Marina.
 
It is note-worthy that the RTA has been running the Water Bus service in the Dubai Marina since January 2013 starting with two stations, and in November that year it added two more stations to bring the number of the Water Bus stations in the Dubai Marina to four stations to serve tourists and residents wishing to savor a fine travel between the two sides of the Marina.
Available at:
Creek Station Customer service office

• Al Seef Marine Transport Station
• Dubai Old Souq Marine Transport Station
• Baniyas Marine Transport Station
• Al Ghubaiba Marine Transport Station
Dubai Marina Customer service office

• Marina Walk Marine Transport Station
• Marina Terrace Marine Transport Station
• Marina Mall Water bus Station
• Marina Promenade Marine Transport Station
• Dubai Marina Mall Water Transport Station