Dec 15 2014
Desert Guide - a new essential prerequisite for Desert Safari drivers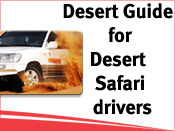 Desert Guide a new essential prerequisite for Desert Safari drivers
The Roads and Transport Authority (RTA) and the Department of Tourism & Commerce Marketing, have set key stipulations for safari drivers in the Emirate of Dubai obliging them to obtain the "Desert Guide" Permit from the Department of Tourism, which entitles them to apply for Safari Driving permits at the RTA.

The RTA is always keen on issuing special permits for safari drivers after undergoing intensive training at one of the institutes accredited by RTA, afterwards they are tested on desert driving by RTA's examiners to verify that they are competent of safe driving before being granted driving permits.

By this all safari drivers are obliged to obtain Desert Guide in the first place, This Guide ensures that applicants have completed the required stipulations and attended intensive sessions aimed at furnishing them with the basic technical skills and practices as to how to deal and communicate with tourists and provide them with correct information about the UAE in general and Dubai in particular.

Drivers hired by tourist companies to be engaged in safari driving are required to submit to the Department of Tourism and Commerce Marketing a number of key documents, including:

1. No Objection Certificate from the sponsor.
2. Passport copy with valid residency.
3. Certificate of good conduct
4. knowledge of English language.
5. Completing a 5-day Tour Guide course and passing the final assessment.
The key documents required to issue the safari drivers permit, are:

1. Each safari driver is required to submit a passport copy along with UAE identity card.
2. a No Objection Certificate from the Department of Tourism in order to open a file for obtaining the Desert Permit.