Mar 01 2015
New distinguished plates starting with Zero on offer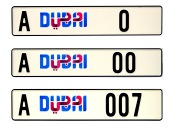 New distinguished plates starting with Zero on offer

The Roads and Transport Authority (RTA) is offering a new code of distinctive number plates for vehicles starting with the digit ZERO. The first bundle of these plates are set on offer in early May 2015. In this regard The RTA would issue a limited number of distinctive plates in respect of some codes.

It is worth mentioning that, the RTA will identify the numbers and codes to be issued under the Zero Code to customers through open auctions or direct sales at Customers Service Center.