Feb 22 2015
Launching Newly Designed Motorcycle Number Plates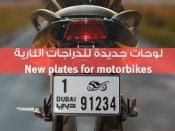 Launching Newly Designed Motorcycle Number Plates


The Roads and Transport authority has rolled out new motorcycle number plates, therefore  motorcyclists and motorcycle owners are required at the time of renewing registration to replace their old plates by new ones featuring an enhanced design adding a touch of beauty & exclusivity to this transit mode.

The newly designed plates branded by an innovative design of a motorbike inserted besides the number and the code and for the first time motorbike plates will include the plate bearing the number 1.

The new motorbike plates are released starting February 22, 2015 and the price set for the new plate is AED25 over and above the normal renewal fees. The new plates will be issued at the time of renewing registration of the existing motorbikes, registering new ones, or in replacement of lost or damaged plates.
The following RTA service centers providing this service, are:
 
• Al Mumayaz at Mizhar Aswaq
• Al Mumayaz at Al Barsha Mall
• ENOC Tasjeel at Al Barsha
• ENOC Tasjeel at Al Qusais
• Tamam Vehicles Testing
For more information, please contact the Call Center on 8009090.