Aug 18 2015
RTA Starts booking appointments of vehicle testing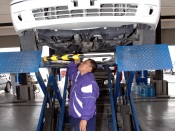 RTA Starts booking appointments of vehicle testing
The Licensing Agency, (RTA) set in motion a system for booking appointments for technical testing of vehicles starting from August 23, 2015 in cooperation with service providers undertaking these tests in Dubai.

This will avail customers the opportunity to select the place and timing they wish to have their vehicles tested in without the hassles of searching or waiting for hours.

The new system will run over a trial period of three months starting in Dubai namely: Wasel Nad Al Hamar, Quick, Tasjeel Al Barsha, Tasjeel Al Qusais, Tasjeel Al Warsan, Tasjeel Jebel Ali, Tamam Al Ghandi, and Wasil Al Jadaf. Booking appointments through RTA's portal, Call Center (8009090) .