Nov 22 2017
Unleashing field initiatives to revamp marine transport at Al Seef, Marina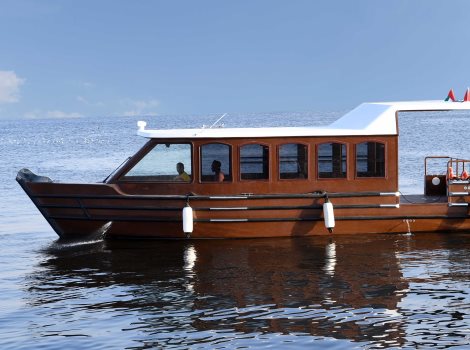 RTA's Public Transport Agency has reiterated its unwavering commitment to upgrade the performance of mass transit modes in Dubai. A cluster of improvement initiatives have been rolled out at different sites including replacing the fleet of Water Buses by new air-conditioned abras. Initiatives also include re-operating the Al Seef Marine Transport Station and linking it with the Creek marine transport network. This fresh initiative serves the needs of the community and attracts more riders to use marine transit means.

Abdullah Yousef Al Ali, CEO of RTA's Public Transport Agency said, "The teams of Marine Transport Department are replacing several water buses by new, air-conditioned and more convenient abras at the Dubai Marina. These abras are operationally efficient and offer riders a chance to commute and enjoy the picturesque sceneries of Dubai at the same fare with no hike at all.

"Among other initiatives taken to improve the marine transport service is the re-opening of Seef Marine Transport Station following the revamping of the entire Al Seef Road locality by Meraas. The revamping of marine transit modes is expected to attract additional riders to use these modes in transiting from Al Seef to other Creek stations, passing through several tourist locations and facilities alongside the Creek.

"RTA marine transit modes are crucial for integrating the mass transit network in Dubai and form a key component of the Dubai infrastructure, especially after the opening of the Dubai Water Canal. The Canal has become a new front of the city as it heralds a quality shift in both the general and tourist marine transport as well as its integration with other vital services in the city. The city is increasingly shaping into a reputed global hub for business and investments in economic, tourist, financial and service fields among others," added Al Ali.

RTA marine transit modes comprise various types of abras as well as the water taxi and Dubai Ferry. They are characterized by an infrastructure built at excellent standards as evident from stations dotting all parts of Dubai