Dec 10 2017
Suspending Red Line metro service between Ibn Battuta and Jumeirah Lakes Towers Stations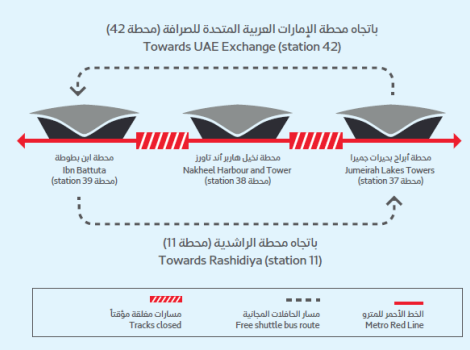 The Roads and Transport Authority (RTA) will suspend the metro service between Ibn Battuta and Jumeirah Lakes Towers (JLT) Stations on the Dubai Metro Red Line from Jan 5, 2018 to the middle of 2019. The service suspension is dictated by construction works required for Route 2020 Project, namely the construction of a new station at Nakheel Harbour & Tower and linking it with the existing one. Accordingly, the Station, as well as the attached Multi-Story Car Park, will be fully closed.

"Constructional modifications require the full closure of Nakheel Harbour & Tower Station as the rail track between JLT Metro Station, and Ibn Battuta Station will be fully closed from Jan 5, 2018, until the middle of 2019," said Abdul Mohsen Ibrahim Younis, CEO of RTA's Rail Agency.

"To ensure the smooth mobility of riders between Jumeirah Lake Towers Station and Ibn Battuta Station, RTA will deploy regular free express buses to shuttle commuters between the two stations during the metro service hours. This alternative transit service between the two stations will be running throughout the closure period to complete construction works required for the extension of the Metro Red line as part of Route 2020 Project," said Abdul Mohsen.

"Metro riders heading to UAE Exchange Station are required to alight at JLT Station, board a free bus to take them to Ibn Battuta Station and then continue their metro journey to the UAE Exchange Station. Metro riders in the direction of Rashidiya Station are required to alight at Ibn Battuta Station, take an alternative bus for free to take them to JLT Station and from there continue their journey in the direction of Rashidiya Station. RTA advise all passengers and Metro users to plan and allow an additional 20 minutes to complete their journey to avoid any delays.

"RTA is always keen to provide seamless mobility means to all segments of the community during weekdays. It also runs other electronic and smart services 24/7 and ensures their full integration with the public transport network," added the CEO of Rail Agency.