Dec 06 2017
Dubai Railway Protection Code of Practice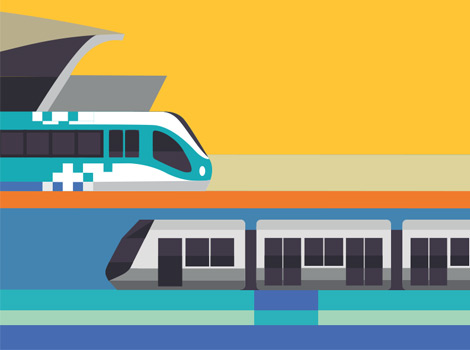 The Rail Agency at the Roads and Transport Authority (RTA) has approved the final version of the Railway Protection Code of Practice in Dubai Emirate. The Code enables the Rail Agency to adopt a practical methodology for protecting the Right of Way of railways from third party projects and works such as those of contractors and consultants operating in the emirate.

Commenting on the Code, Abdul Mohsen Ibrahim Younis, CEO of Rail Agency, said, "This Code of Practice aims to protect the infrastructure of rail facilities in Dubai and forms an integral part of the legal structure of the Executive Council Resolution No. 1/2017 regulating railways in Dubai emirate. A soft copy of the same is available on RTA's official website, which is accessible through this link:


"This Code of Practice, added Younis, is a key tool that details the requirements for practising restricted activities within the Rail Protection Zones as stipulated in the Executive Council Resolution No. 1/2017 regulating railways in Dubai emirate. It is based on assessing risks and conducting engineering analysis of all restricted works & activities that have the potential of causing a direct or indirect impact on the integrity of the railway infrastructure," said Younis

"Open meetings will be held with representatives of contracting & consultancy companies to familiarise them with this Code of Practice. We have achieved the main objective of revising the Code through addressing the limitations identified in the previous version. The new version takes into consideration similar cases and experiences of other countries as well as lessons learned from projects undertaken within the rail Right of Way in Dubai," continued Younis."

Updates and Additions

"The Rail Agency has introduced valuable updates to the final version of this Code of Practice covering the requirements of shoring excavations and dewatering works within the Rail Protection Zones," noted Abdul Mohsen.

"Updates included identifying the potential risks resulting from such activities, which may impact the infrastructure of railway stations and bridges. The revised version has set precautions & measures to be taken to mitigate these risks, and identified the requirements for connecting some development works with the structures of railway station, which requires examining the change in the load values upon which the railway structures had been designed.

"The revised version has also highlighted the requirements for protecting the metro viaducts during the construction of intersecting flyovers, and using cranes & critical lifting works that require examining & analysing the potential hazards and developing appropriate lifting plans.

"The updated version demarcates the Protection Areas for service utility lines such as power and water lines and ground stations, and charts improvements to the risk assessment procedures. It also defines procedures for obtaining No Objection Certificates (NOC) along with their assessment process and classifications in terms of risks associated with such works and how to cope with them, in addition to other improvements," concluded the CEO of Rail Agency