17 Jan 2019
Smart Safety Bus launches to promote students' traffic awareness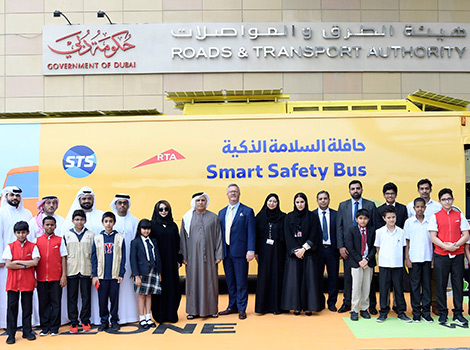 The 'Smart Safety Bus' was launched for raising the traffic awareness of students in Dubai schools. The overall objective of launching the bus is to maintain the zero traffic-related fatalities within schools localities. Over the last seven years, the RTA has succeeded in maintaining a zero-fatality rate within school zones.
The interior and exterior of the bus is designed according to a scientific and technical plan discussed with the project owner (School Transport Services). It is built on the concept of a recent study that blends education with entertainment (Edutainment) in a bid to instil a sound traffic awareness culture amongst the upcoming generations. The new technique is considered much better than traditional means as far as the training of children on the principles of traffic safety is concerned.
The bus is therefore fitted with interactive e-screens displaying entertaining and educational materials, edited by traffic safety specialists at the RTA. The awareness devices extend outside the vehicle to include dangerous and most hazardous spots on the ground in the surroundings of the bus; which are highlighted in different colours. The hazardous spots make sound alerts when students attempt to cross them while solar panels on board power the screens and programmes.