15 Oct 2018
Guinness World Record in compiling the biggest awareness message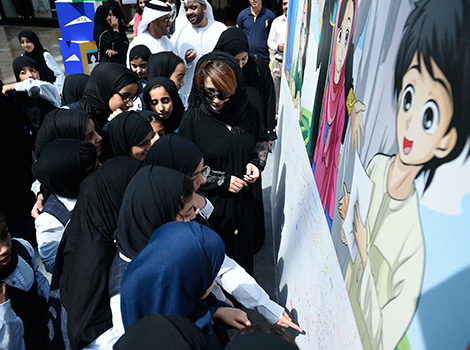 Dubai's Roads and Transport Authority (RTA) has achieved a Guinness World Record by compiling the biggest awareness message using Lego Blocks.
The underlying objective of this achievement is to send a loud & clear awareness message to motorists cautioning them against the risks of using of using phones while driving. Traffic studies indicate that the probability of traffic accidents where motorists are using mobile phones while driving is four times higher than those not using it.
"The awareness message "Your Life worth more than a phone call" reflects in short and strong words the risks of using the mobile phone to the life of the driver as well as road users. More than 20,000 Lego Blocks were used to write the awareness message in both Arabic and English. About 140,000 Lego Blocks were used to make the plaque at the site of the event.
"The key awareness activities held in Dubai Festival City involved the participation of the public and students invited to insert the Lego blocks in place to complete the awareness message. Gifts were distributed along with an educative leaflet narrating in a concise & scientific way the risks of using the phone while driving," added Maitha.
A large part of activities ere meant for children. RTA provided them with a large plaque for signing a letter of undertaking that they will alert their parents if and when they use the phone while driving. RTA explained the new app of 'Salama' magazine including uploading on smartphones and the main benefits for children. Students and children completed a survey about 'Salama' Smart App and made some remarks on the new updates.
During the event, RTA provided a driving simulator offering driving training in a virtual environment, which was well received by visitors of the center who also completed surveys reflecting their satisfaction with the event.