May 13 2015
RTA set to write off vehicles unregistered for 3 years or more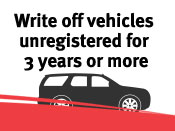 RTA set to write off vehicles unregistered for 3 years or more
The Roads and Transport Authority (RTA), has started working on arrangements for removing vehicles whose registration expired three years ago or more from the Unified Traffic System. The move is taken in implementation of the Resolution of RTA's Board aimed at ensuring the safety of vehicles on road and curbing potential accidents caused by these vehicles as they lack maintenance and annual traffic safety tests mandated by traffic rules.

The Agency will start writing-off vehicles whose owners failed to renew their registration for three years or more in order to remove them from roads starting from the beginning of July 2015. The move is intended to maintain the safety of road users and public properties in the Emirate of Dubai in implementation of RTA's vision of Safe and Smooth Transport for All.

Through this course of action, the RTA is targeting sizable numbers of reckless owners of vehicles who do not observe renewing their vehicles registration. Those individuals do not actually appreciate the importance of renewing vehicle registration, thus exposing themselves as well as others to danger. Moreover such vehicles become liable to defects as they get older with no maintenance carried to keep them roadworthy.

It is noteworthy that vehicle testing and licensing is now possible in as much as 25 centers spanning different areas across the Emirate operating 24-hours a day. Smart apps and RTA website can also be used to save much of the time and effort taken in completing this procedure.