Mar 16 2015
RTA urges passengers to avoid riding unlicensed vehicles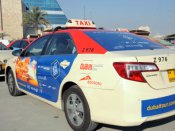 RTA urges passengers to avoid riding unlicensed vehicles
The Roads and Transport Authority (RTA) has called on all community members to shun the use of illegal or unlicensed transit means as they constitute grave risks to the security and safety of riders. Such a call comes in response to the practicing of passengers transport activity by some firms and individuals who promote their service via smart apps, online ads without being licensed to do so.
 
Some of these outlawed activities practiced over here prompted us to make this cautionary warning to the public for a variety of reasons. Some of those practicing this activity do not belong to any licensed entity that renders them accountable or checkable in case of losing the belongings of the rider. Riders of those means are also vulnerable to manipulated fare, bad treatment. Moreover, vehicles used in such activities are not subjected to periodic inspections, and lack the standard security & safety stipulations, which would eventually undermine the reputation of the Emirate.
 
In keeping with its vision of "Safe and Smooth Transport for All" RTA is always keen on launching a host of innovate initiatives and smart apps for the benefit and convenience of public transport riders ridding them of any inconvenience they might undergo outside public transport systems. For example the Smart Taxi enables the customer to book a taxi by just clicking a button of the smart phone; and considering Security System, The RTA has devised the Security system enabling it full control of the speed of about 9000 taxicabs in the Emirate of Dubai. The Journey Planner app branded Wojhati, the first of its kind in the Middle East, provides information about stops and timetables of public transport systems such as buses, metro and marine transit modes enabling customers to plan their journeys properly.
 
It is worth mentioning that Illegal passengers transport activity is covered by legislations, namely Order No. 1 for 2007 regarding the practicing of illegal passenger transport activity such as taxis. The practice has been outlawed as it undermines the security & safety of riders and the Order has set progressive sanctions involving fines of up to five thousand dirham; which may double in the event of recurrence. The Order has set a law enforcement mechanism authorizing RTA's concerned personnel to issue offence reports and fines.