Feb 18 2015
RTA embarks on report offences against unlicensed semi-trailers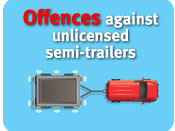 RTA embarks on report offences against unlicensed semi-trailers
As of April 15th 2015, The Roads and Transport Authority starts issuing offences to semi-trailers bearing no registration numbers, be it owned by individuals, firms or public entities. The move is part of RTA's endeavours to protect road users against accidents caused by semi-trailers that fall short of the required standards. The registration is accountably an evidence of ownership of such machinery by the concerned entity.

RTA calls upon the concerned parties to expedite the testing, numbering and licensing of their semi-trailers at service centers: Tamam Al Ghandi, Tasjeel Jebel Ali, Tasjeel Al Warsan, and Al Shirawi Enterprises. This would ensure that such machinery is roadworthy and have no accidents or offences reported against them. It is noteworthy that, The RTA has visited several workshops where semi-trailers are fabricated to furnish personnel with the key specifications and technical standards that have to be compatible with the international standards.

The licensing and registration of semi-trailers is required once every three years for individuals, but the companies have to undergo tests annually to ensure their road worthiness compared with the means and different techniques; which is slightly different.