Jun 01 2015
Pre-booking of vehicle testing service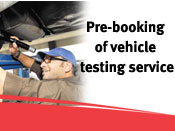 Pre-booking of vehicle testing service
A new service designed to provide owners of vehicles with freedom of choice to make prior booking for the timing of technical testing of their vehicles. Costumers, be it individual or corporate who have vehicles in their ownership, can contact the Licensing Agency through the toll-free Call Center of RTA (8009090) to book an appointment for technical testing of their vehicles, or directly contact the service centers.
The set date for providing this service on permanent basis is mid of September 2015 to make room for improvements. The service is vital to vehicle owners as it enables them better plan and utilize their time in availing streamlined services in much shorter times. Saving time to vehicle owners translates into a cost-saving exercise.
It is worth mentioning that, RTA is committed to adopt world-class standards in the technical testing of various vehicles, and has set these standards as prerequisites of passing the prescribed technical tests in order to ensure the highest security and safety for motorists and all road users.