Nov 20 2017
Al Tayer calls on youth to set career priorities on Day 1 of DIPMF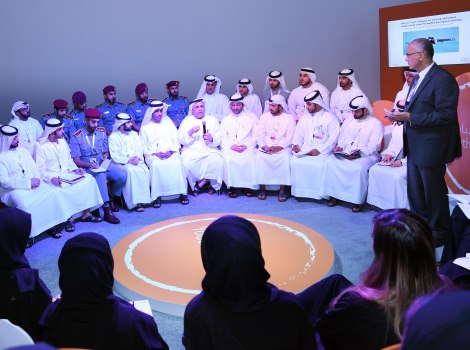 HE Mattar Al Tayer, Director-General and Chairman of the Board of Executive Directors of the Roads and Transport Authority (RTA), stressed to youths the importance of setting their priorities and objectives at the start of their professional careers. He called on them to search for the jobs that match to their specialities in order to share benefits with the working environment. He counselled them to select academic majors befitting the job market as our leaders rely on the potential of youths in building and development of our nation.

Al Tayer made this statement while attending Youth Panels on Day 1 of the Dubai International Project Management Forum (DIPMF) in the presence of HE Abdullah Al Basti, Secretary-General of the Dubai Executive Council. During the session, which was attended by scores of youth both male and female, a lecture was delivered by Dr Alaa Zaytoon, Board Member of PMI and introduction was made by Eisa Al Ali, Direction of Commercial Affairs and Operation, Etihad Rail.

From the start, the non-traditional session saw an elaborate and rich discussion between the lecturer and youth. Topics debated included the objectives of the World Bank in eliminating poverty & hunger as well as improving the quality of education, health services and agriculture. Discussions touched on the ability of youth to engage in these topics within the UAE and abroad.

Discussions highlighted that Project Management should focus on Emotional Intelligence (EQ) in enhancing development through intelligent and effective communication with the concerned parties, passion, diligence and dedication to work.

Dr Zaytoon touched on several issues forming part of the findings. He reviewed with youth how to promote these topics which include: opening safe avenues for youth to engage in a constructive dialogue and testing the ability of youth to contribute to local communities, diffusing the culture of learning. He also shed light on the importance of youth charitable activities and the means of utilising their efforts in support of charitable activities as they have valuable potentials and zeal rendering them a key component in building the present and future of the UAE.

Last June the National Volunteers Platform was launched targeting 200 thousand volunteers among citizens and residents of the UAE by 2017. Ms Shamma Al Al Mazroui, UAE Minister of State for Youth, had launched Youth Panels offering a platform for youth to engage in periodic discussions in various places. Through these channels, the best practices and key topics of relevance to youth along with their aspirations and challenges will be discussed to come up with practical solutions and creative ideas.