Dec 18 2018
Al Tayer and Al Falasi open RTA's new Training Center at Dubai Marina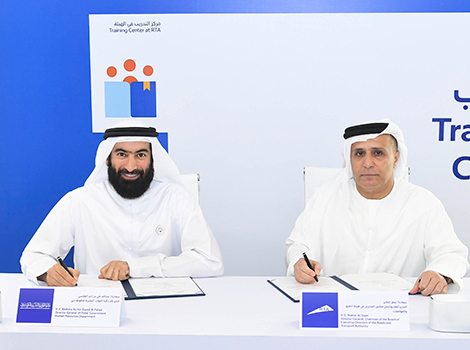 HE Mattar Al Tayer, Director-General and Chairman of the Board of Executive Directors of Roads and Transport Authority (RTA); and HE Abdulla Ali bin Zayed Al Falasi, Director General of Dubai Government Human Resources Department, have opened RTA's new training centre. The Center, which is located at the Dubai Marina, aims to upgrade the skills and abilities of employees, which will serve RTA's strategic objectives and goals.

Al Tayer and Al Falasi toured the 3-level training facility, which can accommodate 350 trainees. It has 17 training halls equipped with the latest training aides, smart apps and edge-cutting educational technologies. The center includes an innovation hall, meeting room, 50-seat theatre, smart-learning library, computer lab, and an assessment centre. It comprises four divisions' namely administrative & technical training, skills improvement and logistical support.

The guests attended a briefing about the center, which is designed to hone the administrative and professional skills of human resources, and deliver high-quality training programmes that meet the needs and expectations of RTA in improving employee performance and abilities. It will also carry out administrative leaders' preparation programme, job tracks programmes and Emirati talents' development programmes.

The center provides a training platform for the best training practices & solutions, builds partnerships with local and international bodies, improves training activities, and enhances employee competencies to cope with the Government plans and RTA's strategic objectives. It also provides a sustainable training environment for career progression besides attracting and retaining excellent human resources.

Al Tayer and Al Falasi signed a Memorandum of Understanding between RTA and the Dubai Government Human Resources Department to boost cooperation in training, education and the empowerment of human resources. It also covers scientific research in support of government performance and the publishing of the best government practices. It also seeks to enrich the knowledge content of educational and training activities with practical skills of government business through the adoption of pioneering training programmes.

Al Tayer was delighted with the opening of the new Training Center; which contributes to realising RTA's 7th Strategic Goal (RTA Excellence). It also supports RTA's efforts aimed to uplift its standing as the first career choice for trained human resources. Achieving such an objective requires increasing RTA's competitive edge in attracting highly professional personnel and developing a comprehensive system for attracting, motivating and retaining employees through caring for their career development on practical and scientific qualification.

"RTA nurtures an environment conducive to career progression; which opens the way for promising young Emiratis to take up key leadership posts and contribute to the realisation of RTA's strategic objectives. Training is very much an integral part of training tools for improving human resources and their job competencies," said Al Tayer.

"RTA is seeking to realise the directives of leaders in providing an optimal training environment that enables young leaders to envision the future and have innovative skills for leading the future. The provides a host of training programmes such as Qeyadi, which was introduced in 2009 to groom first, second and third generation of RTA leaders, and version 4 of the programme targets young engineers. It has also introduced the New Manager programme aimed to instil fresh managers with the tools and information needed during the first 100 days of taking their positions in order to help them understand the culture of the RTA systematically."

"RTA has also Edaad Programme designed to prepare fresh Emirati graduates for taking jobs in the RTA, Academy Programme for scholarships, and Tamkeen 3 month programme for Emirati graduates who haven't been employed after one year from graduation," explained Al Tayer.

Al Falasi stressed the commitment of the Human Resources Department to cooperate with all Dubai Government departments with the aim of qualifying Emiratis at the highest international standards.

"Training is currently getting critically important. The technological advancements are so fast that human resources departments need to have continuous learning and training to empower human resources to keep pace with such global developments," said Al Falasi.

"Training aims to strengthen the points of weakness of employees and train them on the skills that empower them to successfully take up higher positions. It also boosts the spirit of belonging among employees and motivates them to work and improve themselves inside and outside RTA.

"The Dubai Government Human Resources Department provides a variety of training courses and programmes through the Dubai Institute for Human Resource Development of the Department. It aims to polish the skills of Dubai Government Employees through designing training programmes befitting the needs and scope of each department," he concluded.