May 17 2018
Supporting Year of Zayed with 5000 Ramadan Iftar, delights 400 underprivileged families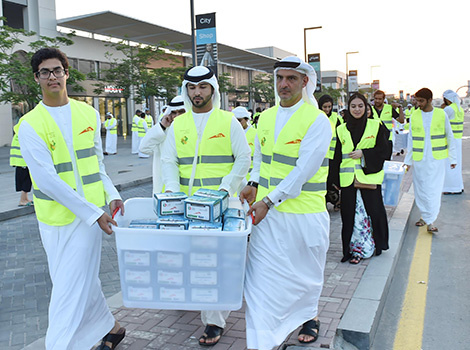 The Roads and Transport Authority (RTA) in Dubai has unveiled a package of typical Ramadan events marking the advent of the holy month, as part of its support to the Year of Zayed 2018. The move also stems from RTA's social responsibility and commitment to enhancing the communication and compassion amongst employees as well as community members during religious and social events.

Ms. Moaza Al Marri, Director of RTA's Marketing and Corporate Communication said, "RTA has prepared an array of distinct events during the month of Ramadan, which coincides with the UAE's Year of Zayed initiative, and our events will enrich this charitable initiative. The Meals-on-wheels event, which is funded by RTA Foundation, will be arranged for the eighth year in a row. Accordingly, five buses will be allocated to distribute 5,000 meals processed within RTA's premises to bus riders, visitors of metro stations, and workers quarters in collaboration with volunteers inside and outside the RTA.

"An event dubbed 'Ramadan Aman' will be re-launched under the theme: 'Together for an Accident-Free Ramadan' in coordination with Al Ihsan Charity Association. A team of RTA volunteers, comprising directors and staffs, will distribute Ramadan meals to motorists at junctions during Maghreb call for prayer (Athan) with the aim of making them slow down at the time of Iftar to protect their lives.

"Events also include supporting the Dubai International Holy Quran Award by deploying VIP buses to commute contestants, judges, lecturers and guests of the Award between their residence and the competition venue. Our aim is to ease their participation and raise the profile of the Award, which has been broadly welcomed for several years. RTA's events are also part of the commemoration of Zayed Humanitarian Work Day corresponding to 19 Ramadan," continued Moaza.

"RTA will take part in distributing Ramadan Meer (ration) to 400 underprivileged families and seniors in Dubai, Sharjah and Ajman in coordination with the Union Cooperative Society. Another event named 'Ramadan with Thukhor' will be held where Ramadan Iftar will be served to seniors affiliated to Thukhor Social Club.

"RTA Women Committee will unleash 'Farhat Eid' (Eid Joy) initiative in cooperation with Rawafed Development Center, and the Red Crescent Authority. Members of the Committee will escort 50 orphan children from families with fixed income to major shopping centres to buy their Eid clothing, cheer them up and engage them in this joyful atmosphere," she added.

"As part of its strategy aimed at bringing happiness to employees and sharing with them the festivities of this holy month, RTA will hold a daily mass Iftar for all employees of the Call Center, workers as well as security and maintenance personnel working around the clock. The move reflects RTA's approach to adopting humanitarian standards towards workers playing a pivotal role in maintaining the RTA image. Dealing with these categories stem from respect to their kind efforts contributing to the interest of RTA.

"A traffic awareness campaign will also be launched during Ramadan marked by the distribution of Ramadan gifts to 1000 truck drivers (500 drivers at Emirates Driving Institute, and 500 drivers at the waiting lounge of the Dubai Driving Center). RTA always seeks to deliver humanitarian contributions and take the initiative in launching charitable events for the benefit of different community segments in an effort to foster the spirit of solidarity, friendliness and volunteering between the public sector and community members. Ramadan is a huge charitable and humanitarian platform that reflects the strategy of RTA, and affiliated agencies, sectors and departments in this regard every year," concluded the Director of Marketing and Corporate Communication.