15 Mar 2023
Shared e-scooter trips clock 1 million in 2022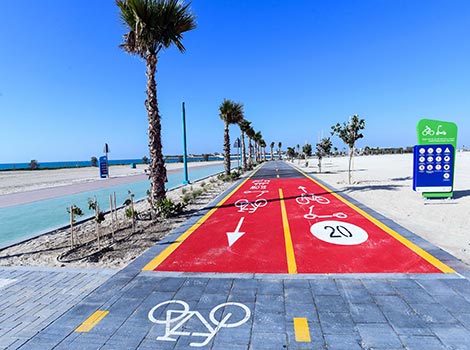 Shared electric scooters in Dubai made about one million trips in 2022, and in the process, they doubled the number recorded in 2021, which amounted to 500,000 trips, all without sustaining fatalities or severe injuries.
The shared e-scooter rental service is thriving and has become quite popular recently, as e-scooters are shaping up as ideal individual mobility means for short trips as well as first- and last-mile journeys. Over 557,000 riders used the service in 2022, and the satisfaction rating hit 76% in comparison to 79% in 2021.
The success of the first phase of shared e-scooters operation is a result of RTA's efforts to expand the infrastructure at e-scooter operation zones that were announced early in 2022. RTA provided dedicated e-scooter lanes with high safety and quality standards, connecting attraction points and high-demand spots such as public transport stations and entertainment areas, like Jumeirah Beach. RTA also permitted individuals to ride e-scooters on safe roads once they obtained riding permits. Since the launch of the electronic platform by the end of April 2022, the number of permits granted has grown to about 50,000.
The initial phase of constructing e-scooter tracks covered Sheikh Mohammed bin Rashid Boulevard, Jumeirah Lakes Towers, Dubai Internet City, Al Rigga, 2nd of December Street, Palm Jumeirah, and City Walk. It also covered safe roads and tracks within specific zones at Al Qusais, Al Mankhool, and Al Karama on designated tracks and zones, in addition to dedicated tracks for bikes and e-scooters across Dubai, excluding the cycling tracks at Saih Assalam, Al Qudra, and Meydan.
11 New Areas in 2023
From the first quarter of 2023, RTA permitted the use of e-scooters in 11 new residential areas in Dubai after completing all engineering and technical procedures and verifying traffic safety issues in the new areas. Thus, they contribute to safer tracks for users of individual mobility means such as bikes and e-scooters.
Allowing the operation of e-scooters in 11 new residential areas raises the number of districts in which e-scooters are permitted to operate to 21; more than doubling the total length of tracks dedicated to bikers from 185 to 390 km, which includes safe and shared internal roads for bikes and e-scooters across Dubai. RTA converted internal roads spanning more than 200 km in Dubai into safe roads featuring numerous traffic safety measures, such as reducing the speed limit from 40 km/hour to 30 km/hour and providing directional and cautionary signs to ensure safe mobility for all road users.
The new areas where the use of e-scooters is permitted are Al Tawar 1, Al Tawar 2, Umm Suqeim 3, Al Garhoud, Muhaisnah 3, Umm Hurair 1, Al Safa 2, Al Barsha South 2, Al Barsha 3, Al Quoz 4, and Al Qusais 3. The objective of this phase was to provide the neighborhood with facilities to serve residents and offer them smooth access to public utilities such as mosques, public parks, and public transport stations using eco-friendly means.
Directional/Cautionary Signs
As part of procedures undertaken to enhance traffic safety in the new areas where the use of a scooter is permitted, RTA added ground markings that included introducing a red carpet marking to alert motorists that the use of e-scooters is permitted in this area, installing traffic signs that show the beginning and end of the safe track for riders of individual mobility means, modifying the speed signs, installing traffic and cautionary signs, as well as installing directional signs leading to public transport stations.
Awareness efforts
Since the start of the trial operation of e-scooters in October 2020, RTA has hosted numerous educational campaigns to sensitise e-scooter users on traffic safety requirements, operation areas, and conditions for the use of e-scooters. Recently, RTA focused on field efforts by deploying individuals to promote traffic awareness in popular areas among e-scooter users, such as Emaar Boulevard, Jumeirah Beach, Dubai Water Canal, and Jumeirah Lake Towers. The campaigns targeting scooter riders stressed the need for compliance with safety regulations and discouraged unsafe practices such as having more than one rider on a single scooter, obtaining necessary permits, adhering to legal age restrictions, and observing the speed limits.
Over the last few months, RTA carried out awareness events at 8 metro stations that are popular among bike and e-scooter users. It coordinated with more than 40 scooter-selling outlets in Dubai to post stickers containing QR codes for checking all traffic safety instructions related to the safe use of e-scooters.
Fines
RTA alerted the public that Resolution No. 13 of 2022 of the Executive Council, regulating the use of bicycles, including e-scooters, in Dubai, lists 21 traffic violations applicable to bikers with fines ranging from AED100 to AED300. The resolution governing the use of bicycles in Dubai and the list of offences and their respective fines can be accessed via RTA's website If any grievances arise in connection with these violations, they can be lodged via email at fservices@dubaipolice.gov.ae within 30 days from the date of registering the violation.
RTA urges scooter users to abide by traffic laws while riding on shared roads in the emirate and only ride on roads permitted for e-scooters. They should also comply with the traffic safety stipulations, such as wearing a protective helmet and jacket and ensuring their scooter has front and rear lights when driving at night. RTA also advised scooter users to complete the online training course to obtain a free permit for riding e-scooters on RTA's website.