21 Nov 2022
RTA wins EFQM seven-star Excellence Award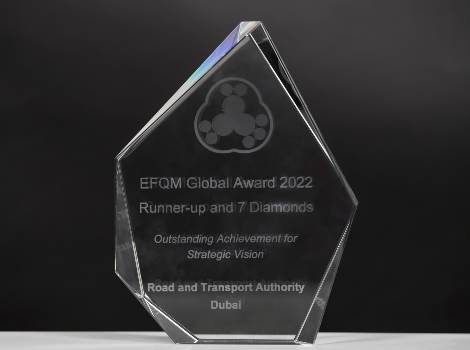 Dubai's Roads and Transport Authority (RTA) has won the European Foundation for Quality Management's (EFQM) Excellence Award with a seven-star rating. The award ranks among the highest worldwide. The excellence model EFQM is used to figure out the position of the entity in its excellence journey, facilitate the exchange of information and ideas, and enhance corporate efficiency.

"RTA won the award in the Vision Realisation and Strategic Planning category. Achieving this award is a testament to the Innovation and Pioneering Department's commitment to strengthening RTA's leading position across various sectors," said Fatima Almandoos, Director of Innovation and Pioneering at RTA's Strategy and Corporate Governance Sector.

"We define excellence as a daily work plan based on well-thought-out strategies that all RTA employees join hands in implementing it. By nurturing a positive workplace environment, we promote excellence and leadership mentality that raises individual and corporate efficiency," she noted.

"RTA became the first entity to achieve an all-time high score as a first-time participant in the history of the award. A score this high affirms RTA's pioneering status in a myriad of excellence fields, in addition to its commitment to developing and implementing international standards," added Almandoos.

The European Foundation for Quality Management recognised RTA as one of the world's leading entities responsible for infrastructure and transportation and praised its commitment to improving customer service and continuing the development of services. Members of the jury expressed their gratitude for the initiatives taken by the RTA to establish sustainable excellence standards.