24 Nov 2022
RTA reviews the latest development and commercial operation of autonomous vehicles in San Francisco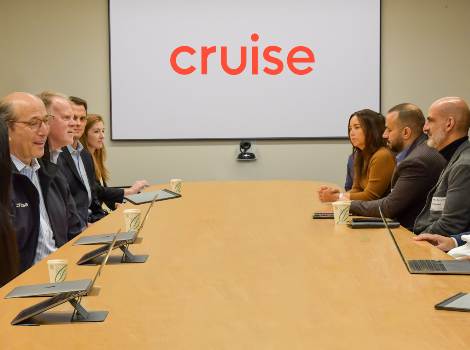 A delegation from Dubai's Roads and Transport Authority (RTA) conducted a visit to San Francisco, USA (7-11 November 2022) to meet with senior leadership from Cruise to review the company's progress on development and commercial operation of autonomous vehicles.

Cruise, a subsidiary of General Motors (GM), shares RTA's vision that autonomous vehicles will contribute to safer, cleaner transportation in cities.

RTA's delegation was comprised of Ahmed Hashem Bahrozyan, CEO of RTA's Public Transport Agency, Khaled Al Awadhi, Director of Transportation Systems, and Ismail Zohdy, RTA expert in self-driving transport. The delegation met with members of Cruise's senior leadership team and was briefed on the current regulatory practices in the US for autonomous vehicles. They also experienced the Cruise driverless service and took a number of rides through the city, in addition to visiting GoMentum Station, one of the largest testing grounds for autonomous vehicles in the United States.

This visit is part of RTA's efforts to chart out an integrated future roadmap for self-driving transport in support of the Dubai Smart Self-Driving Transport Strategy, which aims to convert 25% of all trips in Dubai to ones that are driverless by 2030. In preparation for service launch, Cruise recently completed mapping of the Jumeirah region. Cruise and RTA are partnering to offer Dubai's first autonomous taxi trips, with plans to have up to 4,000 vehicles in the region by 2030.

Cruise is the only autonomous vehicle company that has obtained all the necessary permits in California to operate a fared driverless autonomous taxi service to the public in a major US city. Cruise currently operates a fleet of Chevy Bolt vehicles, one of which was showcased in Dubai at GITEX 2022 in October.

Cruise

RTA's delegation held a formal meeting with Cruise senior leadership in San Francisco. The RTA delegates also experienced the Cruise driverless service and took a number of rides through the city. The delegation also held a series of meetings and workshops over two days with Cruise technical teams. The Cruise autonomous fleet includes several hundred Chevy Bolt vehicles, which have transported thousands of passengers since launching a public service in February.

GoMentum Station

RTA's delegation also visited GoMentum Station in Concord, California, which is one of the largest autonomous vehicle test sites in the US. The testing facility spans an area of 8.5 square kilometres fitted with various types of roads and markings to simulate real roads. The trials enable placing autonomous vehicles in multiple scenarios to monitor performance and traffic safety levels.

Government Permits

RTA's delegation was briefed on the latest US regulations related to permits for autonomous vehicles on public roads. It met with three entities: the California Department of Motor Vehicles (DMV), The California Public Utilities Commission (CPUC) and The San Francisco Municipal Transportation Agency (SFMTA).

The delegation was familiarised with the different types of government permits for autonomous vehicle companies to proceed with testing and operation on San Francisco's public roads. At each stage, the operator must obtain permits that prove its ability to pass and achieve the highest safety standards.