Feb 09 2021
RTA offers concessions to Awnak service for lifting non-emergency cases
(The package includes cancellation of monthly fees, reduction of the minimum number of the fleet)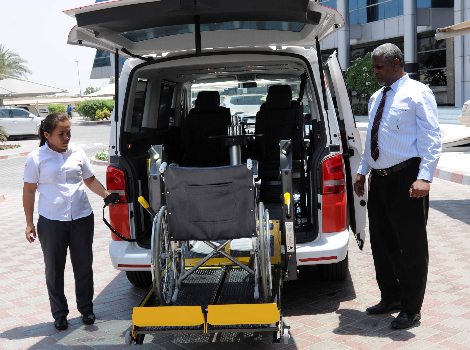 Dubai's Roads and Transport Authority (RTA) has unveiled several concessions in support of Awnak service designated for lifting non-emergency patients that do not require ambulance service to take them to hospitals or medical facilities. The service also covers carrying people of determination as well as senior citizens and residents. The offering of these concessions is meant to make the service easier and more accessible and bring happiness to the targeted segments.

"This service, which is the first of its kind in the region, is designated for patients who had undergone procedures at hospitals, and their treatment requires staying at home. It also applies to patients assessed by doctors and recommended to go to hospitals for further treatment. The scope of the service also covers patients who need to be shifted between hospitals based on medical advice, patients shuttling between hospitals/clinics and their residences, people of determination, as well as senior citizens and residents of Dubai. The service is offered against a fee payable by beneficiaries to the concerned service provider," said Adel Shakeri, Director of Planning and Business Development, Public Transport Agency, RTA.

"Companies interested in practising this activity are offered several concessions compared with the stipulations set when the service was launched in 2014. They can now apply for the service without incurring monthly fees per vehicle, which was the case before. Moreover, the minimum number of vehicles in the fleet required to run the service is reduced from 10 to 2 only. Companies can now apply for permits (instead of concession contracts) through the email address: (murasalat@rta.ae), and supply the required details. The applicant can then proceed to RTA's Commercial Transport Activities Department to get the required permit, and head to Dubai Economic Development Department to obtain the license," he added.

"Vehicles used in the service must have wheelchairs fitted with belts to ensure the stability of the patient in transit and ramps to ease the boarding and alighting of individuals. The difference between taxis and Awnak services is that taxi may not have wheelchairs and ramps. Offering this service underscores RTA's attention to serving all the members of the community, especially those categories who are fully entitled to such customised services.
The service can be requested through RTA's website or Call Centre (8009090), which will provide all information related to companies approved to run this activity," concluded Shakri.