09 Jun 2022
RTA holds multiple awareness events themed: Because Your Life is Precious
(The events are held in coordination with the Dubai Police and the Permanent Committee for Labours Affairs)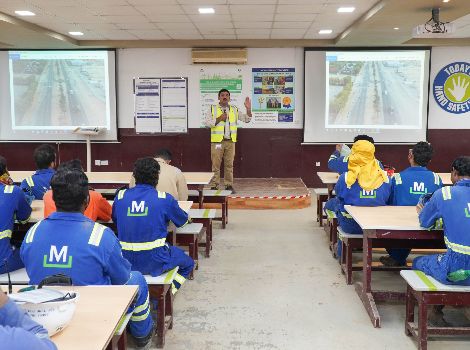 Dubai's Roads and Transport Authority (RTA) has launched a multi-event traffic outreach campaign in collaboration with a host of strategic partners. The campaign, which is focused on pedestrian safety and targets motorists, workers and students, is launched under the theme; 'Because Your Life is Precious, Cross Safely.'

Maitha bin Adai, CEO of Traffic and Roads Agency, RTA, said, "This pedestrian safety campaign is one of four outreach campaigns that RTA has planned for this year, 2022, in collaboration with several strategic partners including the Ministry of Education, Dubai Police, Permanent Committee of Labour Affairs, and the Knowledge and Human Development Authority. The campaign is sponsored by the Emirates General Petroleum Corporation (Emarat) and Almarai Company.

"The campaign aims to reduce the number of traffic-related fatalities and injuries and improve the traffic safety indicators in Dubai. It constitutes part of the targets of the Dubai traffic safety strategy upon which awareness programmes oriented to community members are planned. Pedestrian safety is a priority for the awareness efforts of several stakeholders across the UAE. As such, this campaign targets a wide spectrum of community segments such as workers, motorists and students," she noted.

"The campaign includes messages that urge motorists to respect the rights of pedestrians to cross the roads, tips to workers cautioning them against crossing roads in places other than designated for crossing, and guidance to students about the compliance with traffic safety rules when boarding or leaving vehicles or crossing roads. These messages will be broadcasted on radios, displayed on outdoor signage and social media, and showcased in events held at workplaces and accommodations of workers. Awareness leaflets will be distributed to motorists at public parking areas urging them to give way to pedestrians and respect their right to cross the road, and slow down when approaching school zones," added Bin Adai.

The campaign includes delivering educative lectures to workers of mega-companies and broadcasting video targeting workers through several online platforms and field events. The QR code of the film has been printed in 10,000 gifts (vouchers distributed) to workers during field events held in full compliance with the Covid-19 safety protocols.

Commenting on the engineering and technical procedures, Bin Adai said, "The Traffic and Roads Agency has a comprehensive plan covering all pedestrian safety requirements. It includes designing and installing pedestrian bridges, which will increase to 138 bridges by the end of 2022, and installing speed-calming devices along with crossings and cautionary signs, especially in run-over spots or frequent cross points. It also aims to ensure the safety of pedestrians within school zones and streets nearby parks, mosques and others.

The Permanent Committee of Labour Affairs in Dubai considers the health and safety of workers' environment part of its priorities. Therefore, it has lent support to Because Your Life is Precious, Cross Safely campaign in collaboration with the strategic partners of RTA and Dubai Police. The Committee is coordinating with partners to chart out a roadmap for the safety of pedestrians at pedestrian crossing points and movement areas between areas under construction. The campaign will be launched in several languages mainly Arabic, Hindu, Urdu and English.

Tips

Awareness Tips for Drivers

1. Give way to pedestrians when you approach a pedestrian crossing.
2. Beware of children passing as it is sometimes difficult to spot them and they may act unexpectedly.
3. Do not attempt to overtake a vehicle that has stopped at a pedestrian crossing, as you may run into a pedestrian whom you cannot see.
4. Slowdown in areas that are likely to have many pedestrians, especially near schools and residential areas.
5. Beware of what is going around as a pedestrian may not be paying attention to your vehicle, and may cross the road dangerously.
6. Drive carefully at night and during changing weather conditions as pedestrians may not be clearly visible during these times.
7. Never stop on a pedestrian crossing as you will force them to cross outside the pedestrian crossing, which could risk lives
8. Be patient if there are pedestrians from the people of determination, the elderly, or those escorting children. You need to give them more time to cross the road.
9. Stopping a vehicle on a pedestrian crossing is a traffic violation punishable by law and carries a fine of AED500.
10. Failure to give priority to pedestrians at designated crossing points is a traffic violation punishable by a fine of AED500, and 6 traffic points.

Awareness Tips for Pedestrians

1. Look at the eyes of drivers, and don't cross until vehicles have completely stopped
2. Stay alert, and watch traffic in all directions using your eyes and ears.
3. Do not use electronic devices while walking as they may distract your senses.
4. Avoid jaywalking, use the pedestrian crossings and walkways
5. It is strictly forbidden to cross highways
6. Make sure to use pedestrian paths
7. Cross the street only when the pedestrian crossing light turns green.
8. If there is no sidewalk, walk in the opposite direction of traffic so you can see the vehicles.
9. Make sure to use pedestrian bridges, if available
10. Make sure to use pedestrian subways, if available
11. Crossing from unspecified places is a traffic violation, punishable by AED 400