29 Nov 2022
RTA holds innovative events in celebration of UAE 51st National Day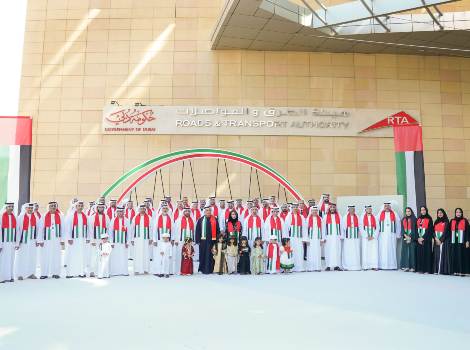 Dubai's Roads and Transport Authority (RTA) marked the UAE 51st National Day with a series of internal and external innovative events. Celebrating this event affirms RTA's commitment to having an active role in formal events and sharing with citizens and residents the pleasure of this day. The celebrations boost the sense of belonging to the nation and loyalty to its leaders.

His Excellency Mattar Al Tayer, Director-General, Chairman of the Board of Executive Directors, RTA took part in the festivities and expressed his pleasure in celebrating this treasured national event.

RTA's internal events included staging several local hospitality Majlises to host breakfast, and the external arena of the premises was fitted with multi-platforms for performances of popular bands, and a corner for traditional and historical handicrafts, in addition to a corner for Emirati cuisine, which forms an integral part of the local customs and traditions.

Transport History

The internal events included displaying pictures depicting the history of transportation means along with platforms for the People of Determination, employee gifts, a platform for UAE 51st National Day, a bazar for employees' products, memorabilia bearing the UAE 51st National Day logo, and a motivational contest for decorating offices .

Street Decorations

External events included illuminating the waterfalls of the Dubai Water Canal in the colours of the national flag and decorating several busy streets and Dubai landmarks with the state flag such as Tripoli Street, Dubai Water Canal, 2nd of December Street, Al Maktoum Bridge, Business Bay Crossing, and the Infinity Bridge.

RTA also displayed the logo and designs of the 51st National Day on the screens of the intelligent traffic systems, metro, tram, buses, marine transport means, customers happiness centres, facilities as well as metro and bus stations.