Dec 18 2020
RTA holds forum in celebration of World Arabic Language Day
(Events included contests in Arabic word semantics and glyphs )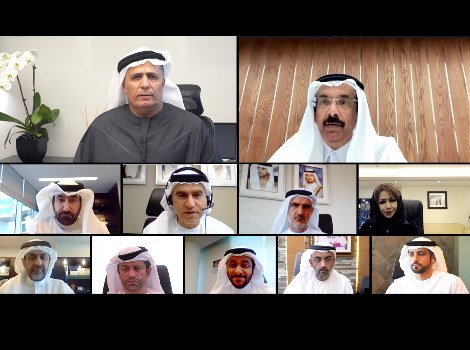 Dubai's Roads and Transport Authority (RTA) marked the World Arabic Language Day, which is celebrated on December 18th each year, by organising the Arabic Language Forum remotely via video conference technology. Attendees included His Excellency Mattar Mohammed Al Tayer, Director-General, Chairman of the Board of Executive Directors of the RTA, and His Excellency Mohammed Al Murr, Chairman of Mohammed bin Rashid Al Maktoum Library Foundation as well as the Board of Trustees of the Mohammed bin Rashid Arabic Language Award. Also, in attendance were several CEOs, Directors in addition to a large number of RTA's employees. During the forum, several contests relating to the Arabic language were held.

At the start of the forum, Al Tayer welcomed the hosting of His Excellency Mohammed Al Murr, a prominent Emirati that gave considerable attention to the Arabic language who has made rich arts and intellectual contributions. "Celebrating the World Arabic Language Day is a testament to our belonging to this language, which is honoured by Allah Almighty in selecting it as the language of the Holy Qur'an. Arabic Language is the intellectual and cultural denominator of Arab nations," said Al Tayer.

In his speech at the forum, Mohammed Al-Murr said: "The late Sheikh Rashid bin Saeed Al Maktoum ordered the establishment of the first public library in Dubai in 1963. We, the generation that grew up in Deira and Al-Shindagha, have benefited immensely from periodicals, books and magazines provided to the library. Dubai and the UAE appreciated early on the importance of reading and capturing knowledge about the Arabic language. The Mohammed bin Rashid Library, a new shoot in the cultural life of the city, has 400 thousand books and other services. The UAE has an excellent record in supporting the Arabic language at the local and global levels.

"For example, Dubai launched creative initiatives in this regard such as the Mohammed bin Rashid Arabic Language Award aimed to advance the language in the fields of education, media and public culture by honouring innovators contributing to the achievement of those goals. Dubai also holds another big event to honour the winners of the (Reading Challenge) competition, a sort of reading Olympiad in the Arab world. It also launched (My School) initiative, an advanced educational tool that includes 5,000 educational slides, including 1,000 slides about the Arabic language," added Al Murr.

"There is also (Kalima) translation project in Abu Dhabi and the historical dictionary of the Arabic language in Sharjah among other initiatives that showcase the profile of the UAE in supporting the Arabic language. However, several language issues need to be addressed relating to compatibility and consistency across the Arab world such as simplifying the grammar rules for young generations, preference for teaching in Arabic language only or going bilingual in primary education, and the conflict between Arabic and foreign languages in some countries," explained Al Murr.

Rowdah Al Mehrizi, Director of Marketing and Corporate Communication, Corporate Administrative Support Services Sector, RTA said, "Our perennial celebration of the World Arabic Language Day inspires us to cement our bonds with this language that represents our conscience, national identity and intellectual heritage. Such attention warrants educating our children to be proud of this language, and familiarizing them with the majesty and grandeur of the language so that they do not grow up as strangers from their Arabic identity. Our celebrations included contests about word semantics, poetic verses and reading Arabic glyphs."