23 Jan 2023
RTA bags ICXA's Best Digital Transformation Award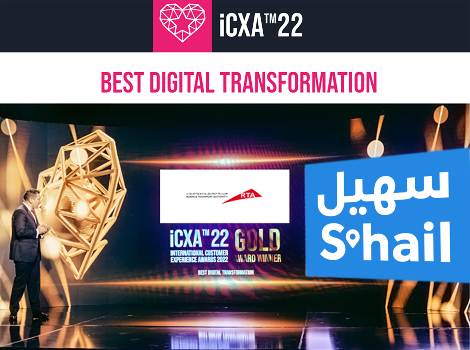 Dubai's Roads and Transport Authority (RTA) has been named Golden Winner at the International Customer Experience Awards (iCXA) 2022, under the Best Digital Transformation category. The ICXA awards, which honours exceptional practices in customer experience, recognised RTA's S'hail app, launched in 2017 for public transportation riders in the Emirate of Dubai.

The S'hail app empowers users to seamlessly plan their trips by providing access to all necessary navigation data and real-time updates on trip times for all 11 modes of transportation offered. It also presents cost options along with the available balance in nol accounts, traffic updates and a feature that determines the best route to reach a destination.

App Services

"The S'hail app was justly awarded the golden award thanks to the vast array of features and services it offers to all users, which are designed to offer a personalised customer experience tailored to individual preferences and needs. It also offers round-the-clock support through its chatbot feature, and a system for measuring customer satisfaction, besides other services that cater to the needs of people of determination," said Meera Al Shaikh, Director of RTA's Smart Services.

"The S'hail app was expertly crafted utilising the most recent corporate agility practices to seamlessly align with the needs and expectations of its customers. It also supports the first and last-mile strategy and offers real-time information about all forms of transportation in proximity to the customer, including fare prices for various modes of transport," added Al Shaikh.

Journey Planning

"The S'hail app greatly simplifies bus trips by utilising a response code system. By scanning the code at the station, customers can easily access information about bus destinations. Riders also have the ability to plan trips in advance, navigate throughout the Emirate of Dubai, and locate points of interest in their vicinity. Additionally, the app offers a feature that highlights places of interest and a news feed that keeps riders informed about updates in transportation within the emirate," explained Al Shaikh.