01 Apr 2021
Reading Month 2021 initiatives draw wide participation
(Prizes, 2 million nol Plus points offered to top participants )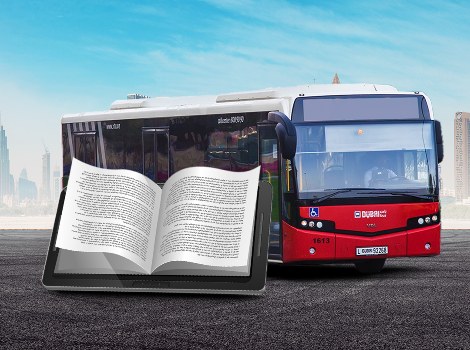 Initiatives of the Roads and Transport Authority (RTA) marking the 'Reading Month 2021,' celebrated in March each year, concluded with a bang. Themed 'My Family Reads,' this year's edition witnessed an array of activities aimed to promote the culture of reading to RTA's employees, their families and public transport riders. On the final day, prizes were distributed to top participants in collaboration with Serco Middle East.

"RTA rolled out a series of initiatives during the Reading Month 2021, and we are keen to continue with our efforts to run diverse initiatives in the near future. The step is part of our endeavours to realise the directives of our government to make reading a lifestyle and a concept for spreading knowledge across the community members," said Rowdah Al Mehrizi, Director of Marketing and Corporate Communication, Corporate Administrative Support Services Sector, RTA.

"Our efforts succeeded in attracting 13 top executives at RTA's agencies and sectors to act as volunteers contributing to Help Me to Read initiative. Virtual sessions were held involving 40 orphan children from fixed-income families at preliminary schools to educate and encourage them to read. The initiative was coordinated with Rawafid Centre for Development and Education and the Red Crescent Society," noted Al Mehrizi.

"Read with RTA App proved a hit with public transport riders during the Reading Month 2021. RTA will reward readers with 2 million points of nol Plus in demonstration of its social responsibility to encourage individuals to fulfil their cultural and educational aspirations. Agenda of the Reading Month drew intense participation from RTA's employees and their families. My Child Reads and Reading Advisor virtual events attracted 26 employees' family members aged 6-12 years," she added.

"The virtual Reading Advisor initiative attracted a host of RTA's employees where a discussion session was held to highlight the importance of reading and honour the best participants in 2020. RTA also presented prizes to the participants in the Reading Month 2021 in collaboration with Serco, and Prizes went to the most frequent users of Read with RTA app as well as participants in the reading activities via RTA's social media platforms. Children participating in internal virtual workshops were also honoured as a tribute to their efforts and foster an educated generation.

The launch of RTA's latest edition of Read with RTA app corresponded to the Reading Month 2021. More than 600 knowledge materials were added such as newspapers, digital magazines, audiobooks, videos and articles in Arabic and English.