22 Nov 2021
Our leaders envisioned global digitisation and artificial intelligence early on
(Addressing Global Manufacturing and Industrialisation Summit 2021)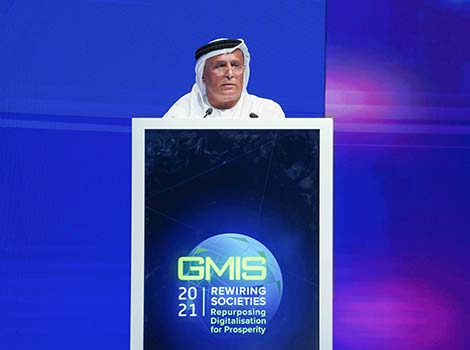 His Excellency Mattar Mohammed Al Tayer, Director-General, Chairman of the Board of Executive Directors of the Roads and Transport Authority (RTA) stated that the perceptive vision of His Highness Sheikh Mohammed bin Rashid Al Maktoum, Vice-President, Prime Minister of the UAE, Ruler of Dubai, had anticipated earlier the trending digitisation and artificial intelligence worldwide.
"It started in 1999 by launching the e-Government at a time where the internet penetration rate was less than 5%. In 2013, His Highness launched the Smart Dubai initiative, and this journey continues with the recently launched Dubai Urban Plan (Dubai 2040) to improve the quality of life in the emirate, enhancing its global competitiveness, and provide multiple mobility options for residents such that Dubai will become the best city for living in the world," said Al Tayer.
Al Tayer made these remarks in a keynote address at the main session of the Global Manufacturing and Industrialisation Summit (GMIS) held at Expo 2020 Dubai in the presence of top officials and industry leaders from the UAE and far afield.
20-Minute City
Al Tayer made a presentation focused on redefining cities towards achieving people-centric mobility. "Through time, the technology advancement cycles have become shorter, and this trend is set to accelerate as far as we move further in the future. The use of self-driving transport means will become quite common like having smartphones now. Dubai Urban Plan 2010 revolves around serving people, improving their wellbeing, and adopting the 20-minute concept," he said.
"Dubai 2040 Plan will re-imagine the city through different strategies and policies, and one way is through the adoption of the "20-minute city" concept, where 55% of the population will live within 800 meters of metro stations, which will allow residents to access more than 80% of daily services by walking, cycling and other soft modes of mobility. The total area allocated for high-tech industrial and economic activities will increase to 168 square kilometres, equivalent to 25% of the total urban area in Dubai by 2040 to promote innovation and attract global companies and start-ups.
"In consideration of the importance of roads and transport infrastructure for urban planning, RTA is currently engaged in revamping its strategic transport plan for the next 20 years to align it with Dubai Urban Plan 2040, following its revised vision to become: "The world leader in seamless and sustainable mobility," he commented.
Future Transport
"Achieving the future of transportation is based on three main enablers. The first is Infrastructure, which entails upgrading the transport infrastructure with technologies capable of supporting future modes and trends in transportation, such as the landing areas of autonomous air vehicles, adding smart sensors and upgrading control centres. The second is Fostering New Modes of Transportation, and the third is Legislation, which entails enhancing new legislation to support futuristic modes of transportation such as self-driving vehicles and E-scooters," explained Al Tayer.
In 2017, His Highness Sheikh Mohammed bin Rashid Al Maktoum launched the Enterprise Command and Control Centre (EC3), one of the biggest and most sophisticated control centres in the world in utilising smart technologies. It controls and integrates RTA's mass transit systems, and manages incidents, crises, and events related to roads, transportation, and traffic.
In 2020, His Highness Sheikh Mohammed bin Rashid Al Maktoum launched Dubai Intelligent Traffic Centre, which sets a platform for integrated digital technologies that use artificial intelligence, big data and the Internet of Things. The coverage of roads network in the Emirate by intelligent traffic systems increased from 11% to 60% currently and is expected to reach 100% by 2023. Through adopting artificial intelligence technologies, RTA's control centres collect and analyse 50 billion data records annually, which helped enable RTA to plan smart mobility, improve transport efficiency and develop futuristic modes of transportation in Dubai.

Self-Driving Transport
In his speech, Al Tayer reviewed RTA's efforts to implement the directives of His Highness Sheikh Mohammed bin Rashid Al Maktoum to convert 25% of total mobility journeys in Dubai to smart journeys on driverless means by 2030. "RTA's journey in self-driving transport began as early as 2009 with the inauguration of the Dubai Metro, a fully automated driverless mobility mode with an average daily ridership of 650,000 riders.
"RTA has recently completed the process of identifying and selecting potential locations in Dubai to deploy a fully operational smart infrastructure to monitor and communicate with autonomous vehicles in a safe manner. It is also considering the technology options for communicating with these vehicles and the technological infrastructure.
"RTA also started to test autonomous robotics for logistics during the Dubai World Challenge for Self-Driving Transport this year and trialled self-driving buses. In cooperation with global firms, RTA is piloting several self-driving transportation modes, including the Autonomous Aerial Taxi, the first of its kind, in addition to Dubai Sky Pods and the E-scooter. The adoption of these futuristic modes of transportation is associated with various challenges, such as potential accidents, technical failure, lack of readiness of infrastructure and difficulty with public acceptance," commented Al Tayer.
Public-Private Partnership
"RTA expanded the scope of partnership with the private sector to provide innovative services and new opportunities in the mobility and finance sectors. For example, RTA signed a partnership agreement with General Motors–Cruise to operate GM's autonomous vehicles to deliver taxi and shared mobility services by 2023, which would make Dubai the first city in the world, outside America, to operate these vehicles. In addition, RTA established Hala, a joint venture with Careem considered the first of its kind e-hailing agreement between a government transport authority and the private sector. It contributed to reducing customer waiting time for taxis by 70%," noted Al Tayer.
Al Tayer concluded his speech by recognising the powerful force of Research and Development (R&D) in driving innovation across RTA. "RTA deployed vehicles equipped with digital cameras supported by artificial intelligence and machine-learning technologies capable of scanning more than 10,000 parking spaces per hour, with 99% accuracy. It also used Big Data to optimise public bus schedules, which resulted in improving 45 service routes between 2018 and 2019 and 24 routes in 2020. RTA also signed 11 partnerships agreements with international and local academic institutions to support the corporate R&D culture as well as dedicating an Innovative Research Fund and holding Corporate Research Scientific Award for RTA employees," he added.