May 15 2019
Organizing government innovation lab to maximise returns of technological resources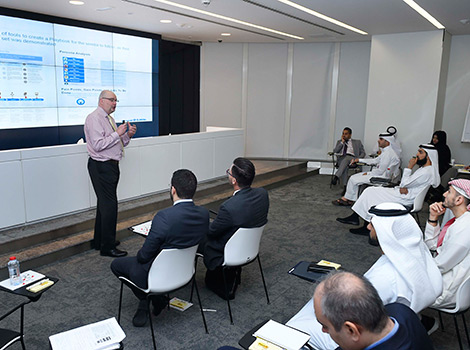 Roads and Transport Authority (RTA) has held a government innovation lab entitled: "Towards a Quantum Shift in Technical Services: Maximising Returns of Technological Resources". The event, which was hosted by the Enterprise Command and Control Center, aimed at coaxing a quality shift towards realising RTA's first and seventh strategic goals: Smart Dubai, and Advance RTA.

Attendees of the lab included Abdul Aziz Al Falahi, CEO of Corporate Technology Support Services Sector as well as directors, managers and specialists of the Sector, and concerned external parties.

The lab reviewed key features of the fourth industrial revolution such as artificial intelligence, 3D printing, internet of things, nanotechnology, quantum computing and others. It also reviewed the strategic objectives of Smart Dubai such as the paperless strategy, Smart City and blockchain technology.

"The importance of innovation, in general, lies in the deliverables of innovation labs as they contribute to maximising the returns of technological resources.
It also leverages business processes to sustain improvements and introduce creative techniques and services. It also contributes to redesigning of the existing services to align them with RTA's strategy in this regard," said Al Falahi.

"The lab discussed key technological achievements made as well as local and international awards achieved by RTA recently. It also examined the status of the existing projects in the priority order of the executive plan of the sector.

"A workshop was also held where participants were divided into four groups to identify key success factors, review main challenges and how to tackle them in addition to examining enablers contributing to successful ideas.

"Each group was engaged in brainstorming sessions and ideas generated were compiled and sorted to select the most viable ones. The closing session screened the final deliverables that serve the theme of the lab (Maximising Returns of Technological Resources) to reset future priorities," explained the CEO of Corporate Technology Support Services Sector.

Al-Falahi thanked attendees for their mental efforts and paid tribute to all ideas contributed by participants. He reiterated that the lab would support the strategic drive of the Sector in future.