Apr 15 2018
Opening new bus route to Dubai Parks, improves others 17th April 2018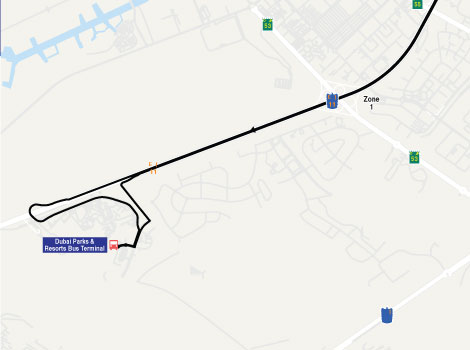 The Roads and Transport Authority (RTA) in Dubai is launching a new bus route this Tuesday (17 April 2018), named Route DPR1, to serve visitors of Dubai Parks and Resorts, one of the key tourist and entertainment destinations in the Emirate.
On Tuesday 17 April 2018, the Public Transport Agency, RTA, will deploy buses to lift riders from Ibn Battuta Metro Station (2) to Dubai Parks and Resorts and vice versa. The service will pass through several spots such the Food Corner of Ibn Battuta Mall, The Gardens Junction at Jebel Ali, and up to the Dubai Parks and Resorts.
The launch of the service aims to bring happiness to public transport riders visiting Dubai Parks and Resorts, and meet the growing demand for the service. Buses are one of the key pillars of the public transport network in Dubai also comprising the metro, tram and marine transit means.
The aim of launching this Route is to provide a quick solution for the needs of public transport riders and respond to the growing economic and tourist movement seen by Dubai and the UAE at all fronts.
The Agency has carried out modifications to other operative routes in Dubai, namely F19A from Gulf Square to Capital Golden Tower through the Business Bay Metro Station southward. Changes also covered Route C14 from Safa and Nahda (1) Station to Sama Hotel Apartments where Al Nahda and Doha streets stops have been abolished, and the Route has been diverted to Al Ittihad Street from Al Mulla Plaza Interchange. Changes also included Route F32 from Mall of the Emirates Metro Station to the Sustainable City where the Route has been diverted to pass through the Dubai Science Park.
The change included the sequence of bus stops in Routes 7, 88, and F12 where the stops of the Iranian Hospital have been abolished to ease the turn of buses. Changes in Routes 8, 85, N55, F43, and F42 covered the abolishing of Ibn Battuta Station (Chinese Corner) stop for security and safety considerations. Changes in Routes 61, 64, 63E, and 55 included the abolishing the stops of Ras Al Khor, Mubarak Transport (1), and Aden Street (1) and (2) due to road works. Changes in Routes 91, 91A, and F54 where Aiwa Gulf and Free Zone (1) stop has been abolished. Changes in Routes F48, F47, X28 and C04, were reflected in the sequence of Bus Stops, following the completion of road works.