03 Jan 2022
Induction workshops about customer needs and expectations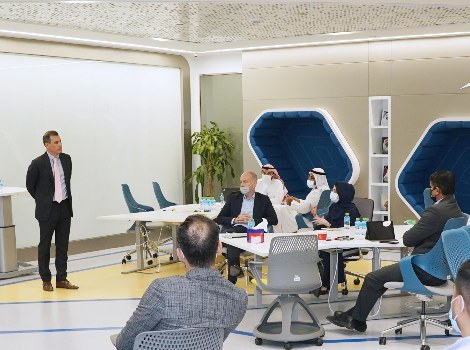 Dubai Roads and Transport Authority (RTA) has held a series of workshops over three days for 100 service beneficiaries under the theme: Identifying Future Expectations of RTA's Customers. The workshops were part of a brainstorming programme to screen the current and future needs of customers to uplift the level of services and configure them to meet customer needs and expectations.

The workshops targeted a variety of customer segments focused on youth using public transport means, tourists arriving in Dubai, individual and corporate vehicles' owners.

"Holding these interactive workshops targeting youth, vehicle owners and Dubai guests is part of the Dubai Government's drive to deliver proactive and smooth services to all residents and tourists. It also aims to engage these categories in a service assessment and design process based on the experience with such services as well as rides on various public transport means in the Emirate," said Mihaila Al Zahmi, Director of Customers Happiness, Corporate Administrative Support Services Sector, RTA.

"The workshops were received with overwhelming interaction by participants and customers contributed with innovative ideas and initiatives, which fits well with RTA's keenness to develop practical solutions based on customer expectations. Such workshops constitute an important platform to enhance the communication and partnership between RTA and clients," she noted.
Topics

The first workshop, which attracted 20 participants from public transport users (who regularly use nol cards) targeted youth and students. It aimed to screen their current needs along with improvement suggestions to enhance their experience in availing these services. The workshop also discussed the future aspirations of youth and students along with their vision for the future of mobility in or through the Emirate.

The second workshop, which targeted owners of vehicles bearing Dubai plates, discussed the experience of individuals and companies in vehicle registration and renewal processes. It attracted 30 participants and focused on challenges they face in registration and renewal processes and how these services can be developed and simplified by presenting numerous development concepts and future improvements.

The third workshop centred on Dubai tourists and visitors and screened the needs and expectations of this segment in using public transport services in Dubai starting from the planning stage until they departed from the Emirate. The workshop also focused on various means of public or shared transportation services including taxis, buses, metro, tram, marine modes and shared transport means. The workshop attracted 40 participants and also presented the results of a satisfaction survey completed by tourists to understand their needs and to identify the best transportation methods available to them during their visit, as well as gathering their opinions on how to develop these services.