Mar 06 2019
RTA receives international excellence certificates from Norwegian Ambassador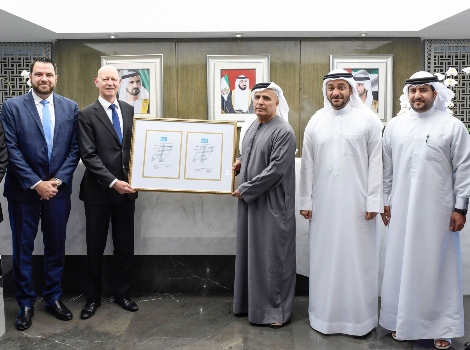 Dubai's Roads and Transport Authority has been accredited with international certificates for its leading role across the Middle East in training employees on Software Asset Management (SAM). His Excellency Mattar Al Tayer, Director General, Chairman of the Board of Executive Directors of RTA was delighted to be presented with multiple ITAM (IT Asset Management) certifications from Norway's Ambassador to the UAE, Jens Eikaas, assisted by CEO of Crayon MEA Mr. Ziad Rizk.

Al Tayer expressed his delight on receiving the certification, which is a testament of RTA's commitment to adopt the highest international standards in the governance of software asset management. It raises the bar on the approved maturity levels in this field and reduces the financial risks related to the utilisation of software asset and IT permits. We congratulate our staff on this achievement and picking up the expertise required for realising RTA's asset sustainability strategy.

For the past 15 months, RTA and Crayon Group Holding ASA have been working together to help deliver on one of the RTA's strategic goals: 'Asset Sustainability' – a critical area for optimizing its operating costs and protecting core revenues.

Integral to the process, the Asset Management Department team followed SAM best practices and passed IAITAM accredited courses to become Certified Software Asset Managers (CSAM) and Certified IT Asset Managers (CITAM). To honour this achievement, RTA was presented with a trophy from IAITAM for having trained the largest number of CSAM and CITAM certified employees. In addition, RTA was bestowed with the Crayon Framework Award and the Crayon Training Award both certified by the International SAM Institute.
"In 2018 RTA accomplished Phase II of the roadmap for developing a detailed software asset management structure compatible with top international practices and benchmarking with specialist firms in this regard," said Nasser Abu Shehab, CEO, strategy AND Corporate Governance RTA
"This achievement had been fully coordinated with the concerned parties as a strategically important digital project. This success is a result of close attention of our specialists to enhance RTA's asset performance under a plan to align the Maturity of Software Asset Management with approved international standards and RTA practices. It also reflects RTA's commitment to foster integrated IT Governance Systems for various types of assets," he added.

Mr. Ziad Rizk said, "Many congratulations. The RTA's Assists Management Department SAM teams have enthusiastically embraced these new learnings and put them into practice to build a highly effective Asset Management practice with impressive results. RTA is now on a journey towards well defined SAM processes and policies, introducing automation into its SAM practice and, through detailed license reports, ensuring compliance for its top five software vendors with a total saving up to 25% in certain areas once the entire project is fully completed.