Oct 11 2019
Donating two buses to remote school in Thailand
(Al Mulla: RTA is keen to assist friendly and sisterly countries)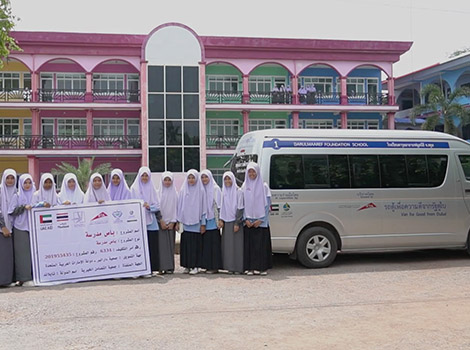 Roads and Transport Authority (RTA) has donated two buses for lifting students of a remote school in South Thailand. The contribution, which was coordinated with Dar Al Ber Society, is part of the global contributions of RTA Foundation.

"The gifting of two buses (each has 15 seats) was a gesture of support in easing the mobility of students of Al Ma'aref Al Ahlia Islamic School at a remote village to the South of the Kingdom of Thailand. Food supplies were also distributed to the 1568 students at the school," said Mohammed Obaid Al Mulla, Board Member and Chairman of the Higher Committee of RTA Foundation.

"This donation is part of the ongoing global contributions of RTA Foundation. Previous donations included Tuk-Tuks (Rickshaws) to needy families in Egypt, two school buses, and school supplies to 400 students in Tanzania and Uganda.

"RTA also donated 3,536 computer units to Mohammed Bin Rashid Al Maktoum Humanitarian & Charity Establishment in support of the noble objectives of the Establishment. Those computers, which had been rehabilitated at the Personal Computers Reconditioning Centre of Dubai Municipality, were meant to support the education process in several counties. RTA Foundation is making big efforts to help individuals locally and overseas and reach out to the largest possible numbers of needy people," concluded Al Mulla.