19 Nov 2023
Completion of 85% of Al Meydan Street Improvement Project
(Works included transforming Al Meydan Roundabout into a Surface Intersection)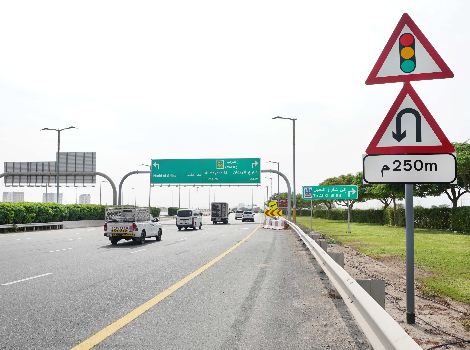 Dubai's Roads and Transport Authority (RTA) announced the completion of 85% of the Al Meydan Street Improvement Project, extending from the Al Khail Street intersection to the Cyclists Club. Works involved widening the street's capacity from two to three lanes as a minimum, replacing Al Meydan Roundabout with a T-shaped signalised surface intersection, and transforming Al Quoz Roundabout into an extended street along the route.

Through continuous improvements of Dubai's infrastructure, RTA aims to enhance road efficiency to match urban growth and support the emirate's sustainable development, thus ensuring smooth vehicular movement on Dubai's roads.

"The recent improvement works aimed to reduce the travel time on Al Meydan Street from 8 minutes to just 1 minute during the morning period and from 7 minutes to less than 1 minute in the evening. Moreover, congestion at intersections is expected to drop significantly by 93.3% in average," said Hamad Al Shehhi, Director of Roads, Traffic and Roads Agency, RTA

"The upcoming phase of the Al Meydan Street Improvement Project includes modifying entrances and exits of the Mohammed Bin Rashid City for a better traffic flow in the area. Additionally, landscaping works are planned at the new Al Meydan intersection. The entire project is expected to be completed by the beginning of the second quarter of 2024," Al Shehhi added.

RTA inaugurated a tunnel for bicycle lanes in Al Meydan area, measuring 160 meters in length and 6.6 meters in width, with a capacity to accommodate approximately 800 bicycles per hour. The transformation of the surface intersection of the cycling track into a tunnel has facilitated free and continuous movement on Al Meydan lane, reducing waiting times for cyclists due to the elimination of the surface intersection. This serves cyclists by connecting development projects in Al Meydan area to Nad Al Sheba and the Cyclists Club through the dedicated cycling track.