Oct 26 2019
Celebrating the 10th Public Transport Day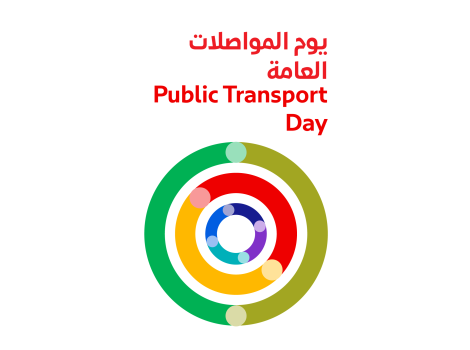 Dubai's Roads & Transport Authority (RTA) is celebrating this Friday (November 1st 2019) the 10th anniversary of Public Transport Day's initiative, which coincides this year with RTA's 14th anniversary, under the theme: 'Better transport for a better life'. The initiative reflects Dubai's care for the environment and sustainable development by encouraging people to use public transport and educating them with the benefits of mass transport.
"The success of the initiative is reflected in improved public awareness of RTA's modern public transit means such as the metro, tram, buses and marine transport as well as the integration accomplished between these modes," said H.E Mattar Al Tayer, Director-General and Chairman of the Board of Executive Directors of RTA.
"Since its establishment, RTA has embarked on improving and integrating mass transit means. Projects undertaken included Dubai Metro extending 75 km and comprising 47 stations, and Dubai Tram spanning 11 km and connecting 11 stations. The fleet of public buses jumped by 145% from 620 buses in 2006 to 1520 bus in 2018. RTA constructed 2200 bus stops including 689 air-conditioned bus shelters for passengers, and revamped water transport means to encompass the ferry, water bus, water taxi and air-conditioned abra. These improvements contributed to the growth of public transport ridership by 261% from 163million in 2006 to around 589million passengers in 2018, thus reflecting an increase in the share of public transport in mobility journeys from 6% in 2006 to 17.5% in 2018," he explained.
RTA plans to continue its enhancement public transport infrastructure and efficiency and broaden the scope of smart transit services to the public. Work on Route 2020 project for extending the Red Line of Dubai Metro to the site of Expo is progressing according to the approved schedule. RTA is planning to expand the bus network to cover 20 new communities and improve the services across the city by aligning them with the changes in the mobility of people by 2020. It has also procured 725 buses, 1612 taxis and constructed 17 bus stations and depots.
The 10th edition of Public Transport Day will be marked by events running 11 days starting from November 1st up to November 11th; concluding with the fifth anniversary of Dubai Tram on the last day. Events include a treasure hunt, 2.5 km and 5 km races on Dubai Water Canal promenade, and raffle draws of gold bars for public transport riders as well as honouring the most frequent riders of public transport.