Apr 18 2019
Briefing Dubai Police on Enterprise Command and Control Centre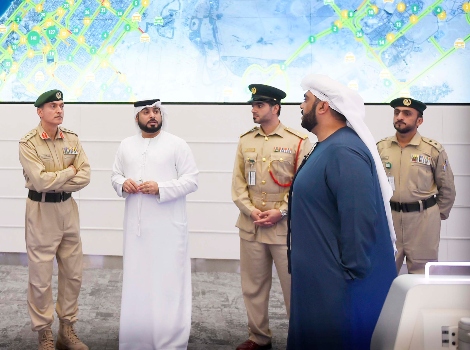 Roads and Transport Authority (RTA) has recently briefed a delegation from Dubai Police on the operations and roles of the Enterprise Command and Control Centre (EC3). The centre is considered one of the biggest and most sophisticated control centres worldwide in terms of smart technology in use, command and control abilities and multi-modal integration. The visit was in the context of the ongoing exchange of experience and knowledge about emergency and disaster management between the two parties.

The Dubai Police delegation comprised Colonel Expert Ahmad Atiq Burqaiba, Director of Crises and Disasters, and several officials. Visitors attended a briefing by Adel Al Marzouqi, Director of Right-of-Way, Traffic and Roads Agency; and Nada Jasim, Director of Safety, Risk, Regulation and Planning at RTA's Strategy and Corporate Governance Sector.

The visit started with a video presentation about the EC3 detailing its structure, roles and objectives as well as processes of each of the eight sections. Visitors toured various sections including the crises management centre, which works around-the-clock to assure the delivery of tactical and strategic management of any emergency incidence or crisis impacting RTA, Dubai or the UAE.

"The EC3 links various control centres of RTA's operational agencies through an integrated central control unit connected with all of RTA's agencies at the initial stage, and relevant external bodies in future," said Adel Al Marzouqi.

"The EC3 performs several tasks highlighted by supporting control centres of various RTA agencies and sectors, crises management, planning and events management, management and integration of transport means, data analysis, data collection, preparation of strategic reports, and management of information security operations," he added.

Ms. Nada Jasim briefed the delegation on RTA's standard procedures of emergency and disaster management. She also touched on the systems and technologies used to facilitate communication and coordination as well as the remote monitoring to enable the leadership team to take appropriate decisions during emergency and crises. Live demonstrations were done for the effective management and support of decisions related to crowd management in Dubai.

At the end of the visit, the Dubai Police delegation was thankful for the exposure to this mammoth technological masterpiece. They were confident that the centre would contribute considerably to easing the traffic congestion of Dubai roads and districts and making people's life easier and happier. They stressed that the facility would ensure an effective and integrated emergency, disaster and events management as well.